We often see people's status as "can't talk whatsapp only." Sometimes people write the same thing in their about section.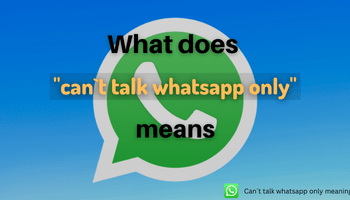 But what does it mean? Why do people write this? Are they trying to say something, or they add this in their about just like that?
Many questions like these might be running through your head. But don't distress yourself if you don't know the meaning of "can't talk, whatsapp only." I'm here having all your solutions;
Can`t talk whatsapp only meaning
When you see someone's story or about stating, "can't talk whatsapp only", it indicates that the individual isn't available for calls.
If you want to talk to them or have any work, you can whatsapp them instead of calling. You can also set the same on your about or status on whatsapp.
Also Know :- How you can hide your chat on whatsapp?
How to set "Can`t talk whatsapp only" in about of my whatsapp profile?
Before adding, be clear about what it means because sometimes people take seriously what you've written in your about section. For setting this in your about, just follow the instructions –
Open whatsapp and smash on the three dots displayed at the right spot of the screen.
You'll be given a lot of options; click on settings from those.
Now, you'll see many sections like accounts, chats, notifications, etc. That's none of your business, just look at your profile and click on your name.
Once you click on it, you'll be displayed the "about" section. Hit the pencil icon given in front of it and just type "can't talk whatsapp only".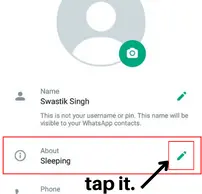 After writing, click on save, and your about is changed successfully.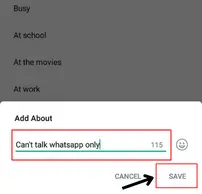 Also Know:- How to put password on yout whatsapp?
FAQ
Where "Can`t talk whatsapp only" appears?
If you have saved it in your about section, it will display below your name. But if you have added it to your status, it will appear in your status for 24 hours. 
 
Why "Can`t talk whatsapp only" people use in their profile?
The reason could be any; it all depends on how the individuals like it to add to their account. There are also some people who use this in their profiles.
What do you mean by can't talk Whatsapp only?
The meaning of can't chat whatsapp only is simple. Through this, the individual wants to tell that she/he isn't available for a call; you can whatsapp them if you wish to contact them.
Conclusion
This is all about "can't chat whatsapp only meaning." I hope that from now onwards, you won't face any issues in interpreting its meaning or adding it to your about.