Looking to pick up your gaming hobby from a long time ago? Not sure what kind of gaming
equipment you need for setting up?
Don't worry, we've got your back. In this article, we have listed a whole set of equipment that you need to jumpstart your gaming experience.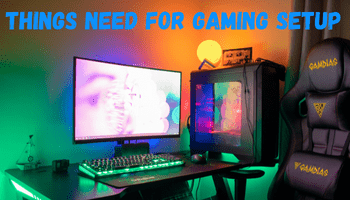 All you need to do is take note of everything that you need;
Internet Connection.
Your gameplay will be affected by the kind of internet connection you have. Consider a
scenario where you are lagging;
you are shooting at an enemy opponent but your internet suddenly starts lagging and in real-time, your teammates can see that your gaming character has stopped moving, and is dead altogether.
But you would have no idea because your game would be lagging. This sort of disruption would
never happen if you had a reliable internet connection.
Hence, you need to sign up for a super-fast internet connection, that is reliable and available in
your locality.
We've got one for you; Xfinity is the largest cable internet service provider that is
widely available in the US, so it's entirely possible that it is available in your locality too.
Check out the Xfinity internet plans and choose the one with download/upload speeds for a smooth
and seamless gaming experience.
Gaming PC.
If you want to go into pro-gaming, then you need to own the right gaming PC. A top-of-the-line
gaming PC might be too costly – a little over $2000 – but it offers you a perfect performance
compared to what you would be getting in the best gaming console or an average PC.
When looking for a gaming PC, you must look for one that has a processor and is able to handle
high-end games. Gaming PCs have dedicated graphic cards that can provide a smooth frame
rate and lesser graphical lagging.
Finally, you will also need a cooling system for your powerful PC processor, either a traditional heat sink or a basic cooling fan setup.
Gaming Headset.
You also need a good quality headset, if you want to play at your best. Low-quality headsets
can negatively affect your ability to play. When deciding on a gaming headset, sound quality is
also one of the important aspects.
You need to go for a headset that allows you to enjoy the sounds in-game without disturbing
others. This is possible with a headset of driver size 45 mm or higher. With the help of an
appropriate headset, you will experience a clear and balanced sound with no feedback.
Microphones are also an important part of headsets since you need to communicate with your
teammates during games.
Also if you are serious about gaming, then you need to get closed headsets, since an open headset allows you to hear sounds around you.
Gaming LED Monitor.
Another aspect that can affect your gaming experience is the monitor that you pick. You need to
decide on a monitor that is specially designed for achieving perfect results during games.
You will be offered faster refresh rates, improved color accuracy, and improved response times with
a perfect gaming monitor.
Game Controller.
Having a perfect game controller can also provide you with a good gaming experience. Using a
wired game controller has more advantages than a wireless game controller; they are lighter
and more comfortable to handle.
If you opt for a wired controller, then you should buy the ones with a long USB cable and
vibration feedback. Having the best game controller can help in improving and enhancing your
gaming experience.
Professional Webcam.
A good webcam can record and stream good quality gameplay for your fans and viewers, which
is why you should invest in a professional webcam that has high-resolution images in low light.
Final Thoughts
There you have it! The aforementioned essentials are the ones that you need first and foremost
if you are considering setting up a PC for gaming.
Obviously, the items might seem a bit too pricey, but all good things come at a price. For a serious gamer, who is most probably looking to build a career in gaming eventually, it is important that he has all the major equipment he needs for a good gaming experience.