Most smartphone users know about the call-forwarding feature. But they get confused between conditional and unconditional call-forwarding terms.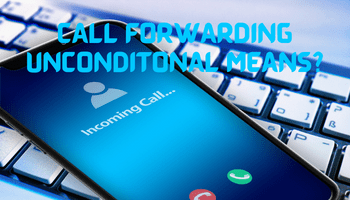 So this article is for those confused folks, just stay till the end, and I guarantee you that all your confusion about these terms will fade away.
I'll explain "what does call forwarding unconditional means" and "the difference between conditional and unconditional call diversion." Let's start – 
Call forwarding unconditional meaning
Call forwarding unconditional means that you divert calls without any conditions.
For example – when you forward calls when you are unreachable, it's conditional. How? You are forwarding your incoming calls only when you are unreachable.
And instead of putting any conditions like that, when you select the "always forward calls" option, you are diverting calls unconditionally.
How? Because in this case, you haven't put any condition ( when should the call be diverted). You're just diverting all incoming calls. 
How can you divert incoming calls unconditionally?
You've two methods of doing this – from settings and via code.
Let's get to the methods separately –
Via settings
Launch the phone app > tap on the three dots at the top right section > flick on call settings > now, move to call forwarding > tap on "always forward calls > enter the number you desire to divert the calls to > tap on turn on.
Via USSD code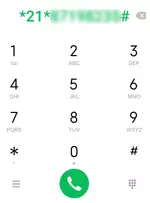 Dial *12* mobile-number #. That's all.
Call forwarding Conditional meaning
Conditional call forwarding indicates that you aren't forwarding all the calls. You're just diverting them in a particular situation.
For instance – when you choose the "forward when busy" option, it will be considered conditional call forwarding because you have put a condition here that your calls will only be forwarded when your number goes busy.
If your number isn't busy, the calls will come to your number only. They won't be diverted.
Just like this, you are given two more options of conditional call forwarding – forward when unreachable and forward when unanswered.
If you choose any of these options, you're putting a condition on call diversion, which means that Your calls will only be diverted in that condition.
How can you conditionally forward the calls?
Well, you can turn on conditional call forwarding in two ways –
1st Way – settings 
Open the phone app.
Now, just click on the following mentioned options serial wise –
Three dots given at the top > call settings > call forwarding.
Select the suitable condition you wish you forward calls in.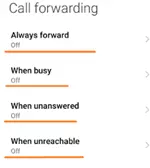 Enter the number and tap on the turn-on option.
2nd Way – dial USSD codes
Just dial the relevant codes.
| | |
| --- | --- |
| Condition | Code |
| When busy | *67* mobile-number # |
| When unanswered | *61* mobile-number # |
| When unreachable | *004* mobile-number # |
Difference between Unconditional and conditional call forwarding
The only difference between conditional and unconditional call forwarding is the situation.
In conditional call forwarding, the user puts a condition on when their call will be forwarded.
In contrast, unconditional call forwarding is just the opposite. In that, the user just decides that each incoming call will be forwarded; he doesn't put any condition.
When you should use unconditional call forwarding?
You can turn on the unconditional call diversion feature whenever you feel like doing so.
If you are busy somewhere or can't pick up incoming calls due to any reason, you can turn on this function.
The steps for doing so are also easy and straightforward, so whenever any situation like this comes up, you can use this function.
FAQ on call forwarding unconditional
How do I turn off unconditional call forwarding active?
For turning off the unconditional call forwarding, either dial *413 or follow the same steps in settings but at last, click on the turn off option.
How to activate unconditional call forwarding?
You can activate the unconditional call forwarding by dialing USSD codes or visiting settings. For a detailed explanation, have a look at the guide mentioned above.
Conclusion
So this is the whole data about the Call forwarding unconditional, the process of activating and deactivating it, and some other essential data.
I hope you've got everything clearly and can use the function whenever required without any hindrance.