Are you intereested to know how to cancel order on myntra? Everyone loves online shopping as they don't need to move out to purchase something. They just require to order the thing and pay for it.
The delivery will be done to your door. Myntra is a platform that provides people the chance to get the product they want without going somewhere.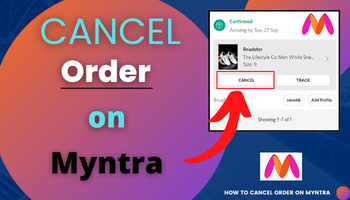 But the reality is that not everyone is satisfied with the product they get after shopping. Even people change their minds after ordering that they don't want to get the product.
Sometimes, people face issues with the product delivered to them for many reasons. Doesn't matter if you wish to cancel or return the product. This article is for you as I'll explain the cancellation and returning product process. Read thoroughly.
Can you cancel your order on myntra?
Yes, you can cancel your order on myntra easily. The reason could be any like you've changed your mind, or the user doesn't want that product anymore.
So it doesn't matter why you wish to cancel the order; you can easily cancel your order on myntra. But remember that you can only cancel it before it is shipped.
Once shipped, you will be unable to cancel it. The only thing you can do at that time is either don't receive it or return it.
How to cancel order on Zomato?
How to cancel order on myntra?
It's time to discuss the steps you need to cancel an order on myntra. So let's know how you can cancel it with a step-by-step procedure-
Open the myntra app/website and then go to the "orders" section.
Select the product you wish to cancel. Hit on the cancel option appearing.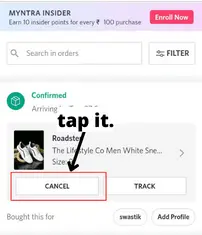 Once you click cancel, myntra will ask the ground behind canceling the order. Select whichever suits you.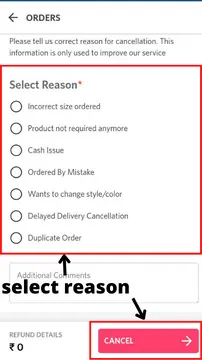 Now, again click on "cancel."
That's all you need to do.
Note – you can only cancel an order on Myntra before it is moved to shipment. If your order gets shipped, you won't be able to cancel it.
Myntra cancellation order policy
Want to know about the cancellation policy of Myntra? I'll tell you that in this section –
The user can cancel the product before it is shipped, and the amount will be refunded to your bank account.
Some rules are –
Briefs, undergarments, mittens, socks, and swimwear have different return and exchange processes-
The pickup facility is not available for such items.
These items can't be exchanged.
All items should be returned unused with original tags. Broken products are also not allowed to return.
Only size exchanges are allowed. Exchanges are only allowed if the address you give is serviceable. 
How to return product on myntra?
Here's how you can return any product on myntra-
Open the Myntra app and tap on the profile.
Here, you will be asked whether you want to return the product or exchange it. If you select return, the amount will be refunded once they pick up the product. In case you wish to exchange it, tap on exchange.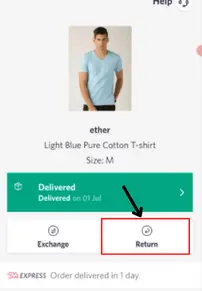 Choose the reason behind you returning the product.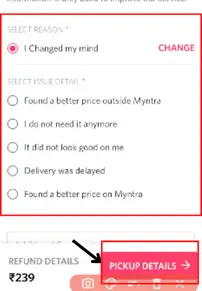 Choose the address from where the product needs to be picked up. You can also choose the time slot in which you can return the product.
After this, click on "proceed."
Tap on refund mode. In case you've made the payment online, the fund will be transferred to that. But if you've paid for it in cash, provide your bank details.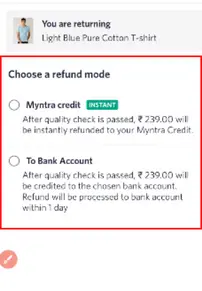 Note – you can also select myntra credit. But let me tell you that you can't withdraw or transfer this amount. It can only be used on myntra purchases. The second thing you should know about this is that the validity of this is just three years.
Now, ensure that the product is unused and contains all the tags.
After this, the app will show a return request submission. It will then show a reference number and how to hand over the item.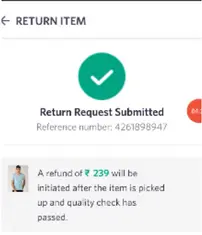 Recheck the details of the product and then tap on the done.
Lastly, the request timeline and pickup date will appear.
Note – you only have 30 days to return the product. After this, myntra will not provide you with any option of returning. So if you want to return, do it within 30 days.
The refund can take up to 15 days to be transferred to your account. So don't take tension about that.
FAQ on Cancelling order on myntra
Can I cancel Myntra order before delivery?
Yes, you can cancel the order only if it is not shipped. Once it is shipped, you will have no option of canceling the order. However, you can refuse to receive the order at the delivery time.
Will I get refund after cancellation of product on myntra?
Yes, the refund will be credited to your account if you cancel the order. But it can take upto 15 days.
When can I cancel my order on Myntra?
You can cancel your order before it is shipped.
Where is the cancel option in Myntra?
You can find the cancel order option under the product you have ordered. You just need to go to your order; there, you can find the canceled order.
Can I reorder Cancelled item on Myntra?
Yes, you can easily reorder the product you have canceled. The steps are also simple –
● Go to the help center, select the product you want to reorder, and then click on contact us. 
● Then move to "write to us" and request for reordering.
Conclusion
I hope now you won't face any problem in canceling or returning the product you ordered. If you still have doubts about the procedure, don't hesitate to ask for help.