Are you also interested to record audio and video call of whatsapp while talking to someone? If yes then you are at the right place to know that how to record whatsapp call?
As we know that call recording option is available in almost every mobile by which we can easily record anyone`s voice call. But there is no any option available in whatsapp app to record voice or video call.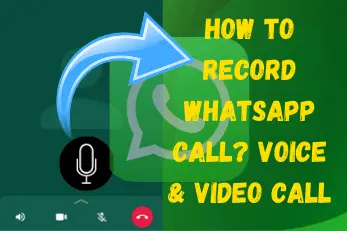 So, Whatsapp users aren`t able to record their whatsapp call when talking to some person even they have a most need to record. But now, you don`t have to worry about for whatsapp recording.
How to unblock myself on whatsapp?
Can whatsapp call be recorded?
Yes, whatsapp voice call and video call can be recorded easily in your smartphone. By the way, you all know that there is no any direct option given on WhatsApp for recording whatsapp call.
But by using the third-party application, whatsapp calls can be recorded. But, it is not the correct way to record whatsapp call but by using the tricks that can be recorded.
That`s why it is not advised to record your WhatsApp voice call as it is not the official way. But if you have the most necessary to record your whatsapp call then you can follow the procedure give below.
Also Know:- How to get call history of any Number?
How to record call on WhatsApp using 3 methods
There are total 3 methods of WhatsApp call recording that are mentioned below by us which will helpful for you.
The first two methods are for WhatsApp voice call recording and the last way is for both audio and video WhatsApp call record.
How to change font style in whatsapp?
1. Using Cube ACR app?
Cube ACR is the best call recording application that allows recording WhatsApp voice call as well as normal voice call and also supports other VOIP.
By using this call recorder – the Cube ACR app, You can record WhatsApp voice call automatically. You don`t require to do it manually, all the incoming and outgoing WhatsApp calls will be recorded automatically.
Let`s know the stepwise to record WhatsApp calls automatically using Cube ACR app:-
Firstly, Install the Call recorder – Cube ACR on your mobile from the Play Store.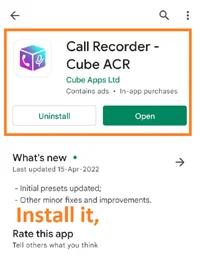 Open the Cube ACR app and tap on the next button.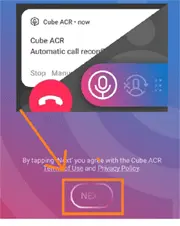 Then, Tap on the Grant permission option and keep tapping allow option whatever it asked.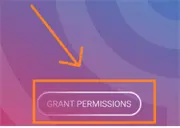 Now, Click to the Enable app connector option and then turn on the accessibility option for the Cube ACR app.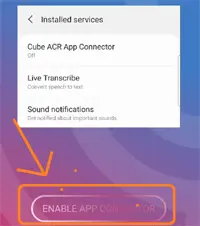 Next, follow the instruction whatever it asks, and lastly, select the free trial option.
As the Cube ACR Application opens completely then whatever WhatsApp calls you to make, that recording would be stored under this app.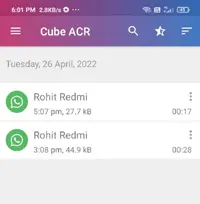 Also Know:- How to hide whatsapp chat?
2. Using App Call Recorder
App call recorder is an app that allows recording your WhatsApp call automatically. Just you need to set up the application by allowing all the necessary permission so that it can record incoming and outgoing calls easily.
After allowing all the permission to the app call recorder, every WhatsApp incoming, and the outgoing audio call will be recorded and stored under this application.
Follow the below procedure for recording WhatsApp call using the app call recorder application:-
Install the app call recorder application from the Play Store on your android phone.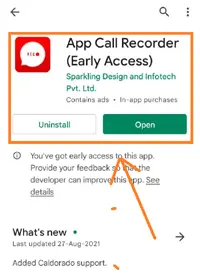 open the app and tap to the grant permission and keep allowing the permission that it asks.
Now, Enable the accessibility permission to this app by tapping on the enable service option.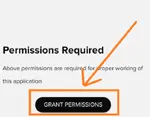 Also, give permission for notifications access to this app.
Finally, all setup is done. Now, every WhatsApp call record would be recorded and would be saved in this app.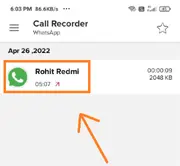 How to put password on whatsapp?
3. Using Screen recorder
If you want to record WhatsApp video & audio calls then you can do it by using the screen recorder system. By the way, the Screen recorder is pre-installed in almost every smartphone.
But if there is no pre-installed screen recorder in your smartphone then you can install any third-party screen recording application on your smartphone.
Just you need to Turn on the screen recording while doing WhatsApp video or audio calls. As you start making voice or video calls to someone on WhatsApp, you should immediately start the screen recording.
How to tag everyone in whatsapp group?
FAQ Whatsapp call Recording
How can I record a WhatsApp call secretly?
You can record your WhatsApp call secretly without knowing the next person who is on WhatsApp call. You need to follow the above method from the given 3 methods. Then the WhatsApp recording will start then the person who is on the WhatsApp call will not get notified that the call is being recorded.
Can WhatsApp call be recorded automatically?
Yes, WhatsApp calls can be recorded automatically. But if you want to record call of your whatsapp automatically then you need to follow the third-party application method which is mentioned above.
Do whatsapp calls get saved?
No, WhatsApp calls not save anywhere locally on your phone storage. when you install any third-party application for recording WhatsApp calls that get saved in your phone.
Conclusion
I hope that you would have known well about recording WhatsApp calls. I have tried my best to make you explain the process of WhatsApp call recording.
After doing extreme research, we have introduced three methods for recording WhatsApp calls. Also, we have covered some frequently asked questions related to the Whatsapp voice call recording.
If you have any suggestions or queries regarding WhatsApp call recording then feel free to ask in the comment.