Are you curious to know the procedure of how to hide whatsapp chat without archive? If yes, then you are at the right place for hiding your personal chat in whatsapp using password.
Most of the Frequent whatsapp users need to hide their whatsapp chat, So that anyone can`t access that personal whatsapp chat without the permission of the owner of whatsapp user.
Because many times our family members or some friends used to use our mobile, that`s why we want to hide our conversation whatsapp chat.
As you know that whatsapp has only archived options for hiding whatsapp chat but that is temporary and any person can access that personal whatsapp chat. So, there is not security of your chat.
Therefore, Many WhatsApp users want to know that how to hide whatsapp chat without Archive?, Such that anyone can`t see the chat without their permission.
So, you will get the step by step pricedure to hide your whatsapp chat with lock without archive method in this page.
How to hide chat in instagram?
Is it possible to hide chat in whatsapp without archive?
Yes, It is possible to hide your personal Whatsapp conversation chat with a password without archive options. But you can`t do the procedure in your own official WhatsApp app..
How to unblock yourself on whatsapp?
5 methods on How to Hide Whatsapp chat without archive in Android & iphone
There is a total of 4 ways to hide your WhatsApp chat with lock and without archive features on your android and iPhone smartphone.
The app to hide whatsapp chat are the GB Whatsapp app, Locker whats chat app, Yo WhatsApp app Whatsapp plus, and one traditional method through the archive.
| S.NO. | Method for Hiding whatsapp chat |
| --- | --- |
| 1. | By installing GB whatsapp application. |
| 2. | By Using locker whats chat app. |
| 3. | By installing YO Whatsapp application. |
| 4. | Through the Whatsapp plus app. |
| 5. | Traditional by Archive method |
Ways for hiding whatsapp chat
How to Hide WhatsApp chat without archive using GB Whatsapp?
When it comes to additional features in WhatsApp then frequently you might have heard the GB Whatsapp, right?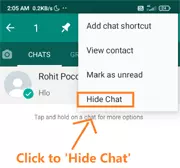 So, the GB whatsapp application provides many extra features including hiding whatsapp chat with password also. So, you would know that how to hide chat in GB whatsapp through the help of this application. Steps to install and hide chat in GB Whatsapp are mentioned below.
1. Download & Install Gb whatsapp
Search " GB WhatsApp download" and visit to the first website.
Find the Download GB WhatsApp app option and click on it.
Now, app will start downloading and then install this app by turning on unknown source
2. Open GB Whatsapp and select chat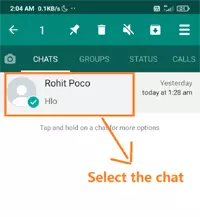 Open the GB WhatsApp app on your smartphone and sign in using your Whatsapp number. Then, Select the chat which you would like to hide.
3. Click on 3 line.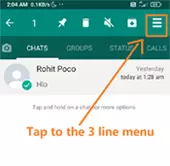 Tap to the three-dot menu on the top right side corner.
4. Click on Hide.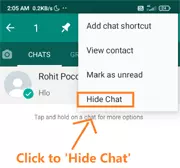 Then, tap the Hide options.
5. Select lock type & create lock
Now, you will be asked to choose a lock type to secure your WhatsApp chat by hiding. So, select accordingly to your choice either pattern or PIN.
Finally, Your particular WhatsApp chat is hiding from your GB WhatsApp and nobody will be able to access that hidden WhatsApp chat without entering the lock or pattern.
How to get call details of any Number?
Best whatsapp online notification tracker
Steps to View or unhide the chat in GB whatsapp
Tap to the whatsapp button as you can see in the below screenshot. Normal whatsapp user will also know even that where the hidden chats are kept in GB whatsapp.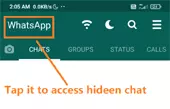 Enter the pin or Pattern which you had set while hiding the chat.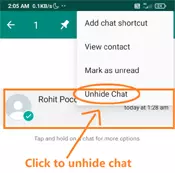 Again enter the same password to unhide and then your chat will be unhiding as normal.
How to hide chat in whatsapp with password using Locker whats Chat ?
Locker whats chat is an application that allows to hide your personal chat from your official whatsapp application. This application is available for only android operating system smartphones.
Steps on how to hide whatsapp chat without deleting
Download & install the locker for what`s chat application on your android phone from the playstore.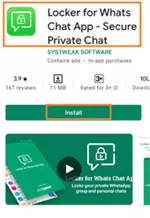 Open the Locker what`s chat app on your phone.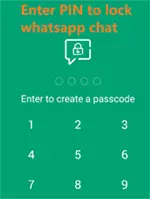 Now, the app will ask to turn on the accessibility permission. So, click on the enable options.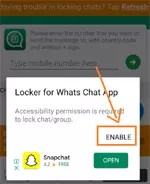 Turn on the services to access all permission to this application.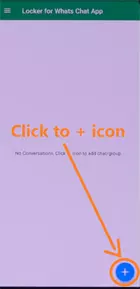 Now, your WhatsApp will open and all the chats will be displayed to whom you have chatted.
Whenever you will open your whatsapp app then that chat will show but anyone will not be able to read the messages of that chat because that particular chat is protected with password pin.
If you would like to unlock the whatsapp chat then just unlock the chat by visiting the Locker what`s chat app.
How to install software in Mobile?
How to lock whatsapp chat using Yo whatsapp?
Yo whatsapp is also one of the third-party WhatsApp applications that provides features hide chat of whatsapp with password.
One more things about this application is that it is available for both android and iphone user but you will not find the app in play store or apple store as it was an unofficial app.
Steps to Install & Hide whatsapp chat without archive in Yo whatsapp
STEP 1. Firstly, you will need to download and install yo whatsapp app on your phone.

Search "Yo WhatsApp download apk" and visit the first website.
Scroll down and download the app.
As the software is downloaded then install it by allowing the unknown source options.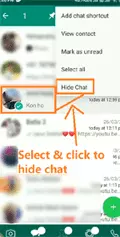 Enter the 4 digit password which you would like to set for your personal chat.
How to connect set top box to laptop?
Steps to Unhide chat in YO whatsapp
Open your YO whatsapp and then click to the YO whatsapp at the top.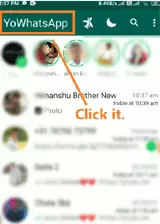 Enter the password which you had entered while setting the chat in hidden mode.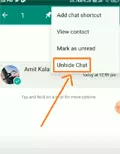 How to Hide whatsapp chat using Whatsapp plus?
Whatsapp plus is also a similar application as a YO whatsapp and GB whatsapp and it also provides some extra features to the whatsapp users.
you can also hide your whatsapp persona chat through the Whatsapp plus application.
Follow the below procedure to know that how to hide whatsapp chat without archive using Whatsapp plus app:-
Download & install Whatsapp plus application on your smartphone by searching "Download whatsapp plus" from the first website.
Install the whatsapp app on your phone and open it by logging with your number.
Select the chat and click to the hide chat options by tapping the three-dot.
Now, choose a lock type pattern,pin or fingerprint lock according to your choice.
Put the password then the chat will be hidden.
Since the chat will be accessed by clicking to the whatsapp button as similar to the other two methods. So, follow that.
How to hide your chat of whatsapp using archive?
Most of them knowing about hiding the whatsapp chat using the archive method which option is available in your official whatsapp application.
If you are interested in archiving your whatsapp chat then by following the below method, you can do it:-
Open your WhatsApp and select a particular chat that you want to archive.
Now, Tap to the down arrow icon which is of archive and as you can see in the below screenshot.
As you tap that o
the option then your particular chat goes to the archived box or section. In the above of first chat, an archived option will appear. So, tap it if you want to see your chat.
If you want to reverse back your chat from the archived section, then again follow the same process by selecting and tapping to archive option.
FAQ on How to hide whatsapp chat without archive
How do I hide a conversation on WhatsApp?
There are many procedures for hiding your whatsapp chat conversation but you will need to install the 3rd party application for it. Because as you know that official whatsapp features only allows to hide through archive..
Can you hide a WhatsApp chat without leaving?
Yes, obviously you can hide your whatsapp chat without leaving any group or contacts chats. It means you can hide the whatsapp chat by locking that particular WhatsApp chat without deleting any messages from the group or chats.
How to check hidden Chat in Whatsapp?
Sometimes our friends delete messages and hide chat from us and we can't see it in simple whatsApp. I have a solution for it which is WhatsApp Plus, this app helps you to see hidden chats and you can also see deleted messages in whatsapp. It has a lot of more features like checking hidden online status etc
Can I permanently hide a chat in WhatsApp
Yes, you can hide a chat permanently also that means unless and until, you don`t unhide chat manually till then chat would be hidden.
Conclusion on How to hide whatsapp chat in android & iphone
I hope you have learned well the process of how to hide whatsapp chat without archive through various ways.
We have introduced the 4 ways through which you can secure your whtsapp conversation chats from anyone.
If you get any problem related to hide chat in whatapp then you can comment below, we will try to resolve your query.