Are you also interested in sending Instagram gift box messages through Instagram latest feature? If yes then you are at the right place to know how to send gift message on Instagram?
As you know that Instagram frequently brings some special features which attract and make it helpful for Instagram users. Instagram is trying to make as better as its system to make it more user-friendly and awesome for its audience.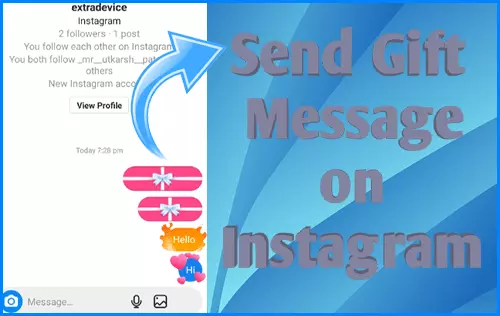 So. With the many great features, Instagram has also brought one awesome feature of gift message in its Instagram messenger.
What is an Instagram gift message?
Instagram gift message is the same as a normal message but the message is packed or covered by gift. It means when you send a message to anyone on Instagram then the message is sent as a gift.
Then the receiver (next person) receives a message in the form of a gift. So, the person needs to touch the gift for opening it and viewing the message.
It is the same as you giving a gift to your friends or relative on their birthday or any function in which inside there is some goods or wishing letter. So, the persons need to open that particular gift for looking the goods or anything kept inside the cover.
How to change instagram chat theme?
How to send gift message on instagram?
Sending messaging with a gift on Instagram is very easy, just you need to know the procedure once. We have mentioned the step-by-step procedure with the help of screenshots for creating a gift message on Instagram and sending it.
Follow the below procedure for sending Instagram gift message on Instagram messenger:-
Open your Instagram application whether it is android or iPhone, no matter.
Tap on the message icon for opening the chat list.
Open the chat to whom you want to send Instagram gift message.
Type a message about whatever you want to send as a gift.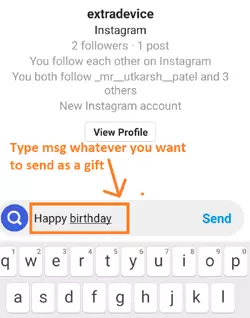 Now, Tap on the Search icon which is in the blue color as shown in the below screenshot.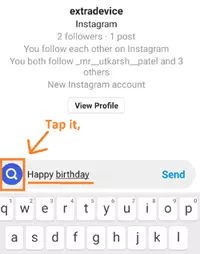 Scroll to the right side for getting gift images. Now, Tap on the Gift images as it appears.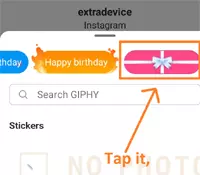 Finally, you can see that your message has been sent in the form of a gift. When you or the next person touch the gift then only a message will appear.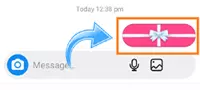 How to post multiple photos on instagram?
Why you are not able to gift box messages on Instagram?
Sometimes many Instagram users face problems in that the search icon does not appear for sending gift messages on Instagram messenger. So, if also face that problem then you don`t have to worry.
You can easily fix that problem and be able to send messages on Instagram in the form of a gift. Firstly, let`s know that what is the reason why the search icon doesn`t appear while typing a message.
Updating Instagram messenger
Switching account to business account
Instagram app update
Cache problem of the Instagram application
So, above are the following are the reason why you are not able to send Instagram gift messages. Now, let's know how to fix it if you aren`t able to send a gift message on Instagram?
How to Fix Instagram gift message not showing?
Following are the solution for fixing the Instagram gift not showing the problem. Just follow each process mentioned below if you are also facing this type of problem.
Updating Instagram messenger
You just need to update Instagram messenger in your Instagram application by following some simple steps. Follow the below one:-
Open your Instagram application and click on the profile option which appears at the bottom right.
Go to the menu icon and then tap on the setting option.
Click on the update messaging option and then just tap on the update button.
Switching account to personal account
If you have switched your Instagram account from a personal to a business account then also this problem arises. So, Follow the below process for switching your Instagram account to the personal:-
Go to profile < Menu icon < Setting option.
Tap on the account option.
Scroll down and then click on the Switch Account Type option.
Finally, Click on the 'Switch to Personal account' option.
Instagram app update
Just visit t]9 o the play store or AppStore and search their Instagram. If your Instagram application is not updated to the latest version then the update button will appear.
So, just tap on the update button and wait until it is finished. If you use android then go to the play store and for iPhone visit the AppStore.
Cache problem with the Instagram application
Sometimes due to the cache problem of your Instagram application also, this problem occurs. In this situation, you also need to clear the cache once again of your Instagram app.
By the way, there are many various options for clearing the cache of any application. But let`s know the short and simple way for clearing the cache of your instgaram app:-
Keep long-press your Instagram app on the home screen of your mobile.
Tap on the app info option.
Find the option of cache and tap it for clearing.
How to create instagram group?
FAQ on Sending gift message on Instagram
How to unsend instagram gift message?
As you unsend any normal images or photos on the Instagram chat, in the same way, you can also easily unsend Instagram sent gift messages. Just you need to long-press the gift and tap on the unsend button.
How to open the gift message on instagram?
Just you need to touch the gift once then the gift box will open like an animation and you will be easily able to read the message whatever you have received.
How do you send a gift message on Instagram?
Just you need to type the message and tap on the search icon, and then select the gift icon. That`s set, your message will be sent in the form of a gift.
How do you send an animated text on Instagram?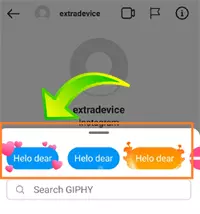 For sending animated messages on Instagram, the procedure is the same as sending gift message. Just you need to tap the animation according to your wish which is beside the gift icon option. Whenever a person opens the chat then the message appears with the animation you send.
How to save story on instagram with music?
How to save instagram private account post?
Conclusion on how to send gift in Instagram chat
I hope that you would have known well to send gift messages on instagram chat in detail and other information related to it. Now, you can easily send gift & animated messages to your friends or anyone on Instagram chat.
We have tried our best to make you understand in an easy way about Instagram gift box message. You can also directly DM to anyone with a gift message as well as it doesn`t matter to the follower or following.
If you have any query or problem related to the gift message on Instagram then you can tell us by commenting below.