Have you also done a video or voice call to someone on Instagram and want to Clear your video & Voice call history from instagram? If yes then you are at the right place to know how to delete call history on instagram?
Wherever we do call either video or voice call on Whatsapp, Facebook, or normal calls, we also need to delete the call details or history to secure our privacy.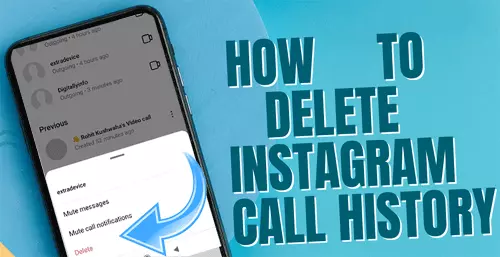 As we also make video or voice call to someone on instagram, So instagram also keep records of call detail of video and voice which appears at the call log option and person`s chat to whom we make call.
How to check call details of any number online?
Is it possible to clear Instagram call history?
Yes, you can delete your instagram video and audio call history to secure your privacy. As you know that call history are recorded or appear on instagram at two places which are at the call tab option and inside the chat.
We would like to make clear to you that Instagram only provides a directly option to delete call history from call tab option but it does not given option to unsend or delete call history from inside the chat as a normal message.
However, You don`t have to worry about it. We have mentioned the various method through which you can remove instagram call history from both place, call list, and inside chat.
How to Hide chat in instagram? with password
4 Ways for Deleting instagram call history
There are 4 ways for deleting audio and video call history from Instagram application which we have mentioned below. For deleting call history from call option are the 1st method which are directly provided by instagram are mentioned below.
For Removing call history inside the instagram chat, there are other 3 tricks which are also mentioned below step by step procedure. So, let`s know all those methods.
How to send gift message on instagram?
1. Delete call history in Instagram of Video & call log
You must make sure that your Instagram account has switched to a personal account because if you have previously switched your account to professional then the calls tab won`t appear.
Follow the below procedure for clearing call history on Instagram of call option:-
Open your Instagram application and then tap tap to the message icon.
Tap on the call tab option as you can see in the below screenshot.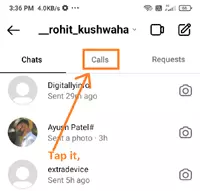 Select the call chat by keeping the tap long from the recent call history that you want to delete.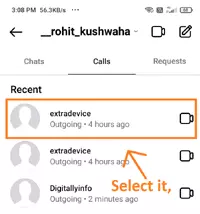 Finally, Click on the delete option to delete Instagram call history permanently.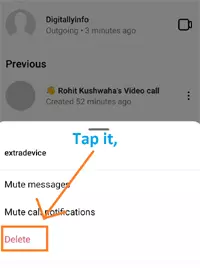 By following the above step-by-step process, you can easily able to delete the call history on Instagram of the recent call history of the Instagram application.
As you also know that the call details also appear inside the Instagram chat whether that is a video or audio calls. So, Below are the 3 methods provided by us through which you can delete Instagram call details.
How to post multiple photos on Instagram?
2. Clear call history in Instagram of inside chat
Unfortunately, you cannot unsend or delete call history inside the chat which are recorded with the time of call started and the call ended.
Instagram doesn`t provide any option to delete or unsend it as you can unsend the text message, photos, videos, stickers, GIFs on Instagram chat.
This means you need to delete all your messages, photos, videoes etc. of that particular chat if you want to remove it permanently.
Follow the below procedure to delete call history on Instagram:-
Open the message option (Chat list) of your Instagram app.
Select the chat of which you want to clear the call history of video call and audio.
Tap on the Delete option.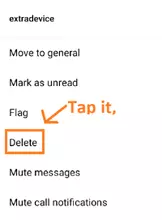 Now, that particular chat will be removed from the chat list as well as all data contains such as call history of audio & videos, text messages, photos, videos, etc. permanently.
3. By switching to professional
Actually. I would like to make clear to you that by this0 tricks your call history of a call option will only disappear or hide. It would not delete permanently and also by this method, call history of inside that chat wouldn`t get clear.
However, As you create a new instagram account then that is in personal account. So, In personal instagram account, Call tab appear through which direct call history could be seen.
But if you switch your instagram account to professional account then the Call option disappear and call history can`t be accessed or seen from it.
Follow the below process How to delete call history in instagram by switching to professional account:-
Go to profile<three menu bar<setting.
Tap to the account and then click on the switch account type.
Finally, click on the 'switch to professional account or business account'.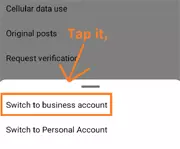 After Switching your Instagram account to business or professional, the call tab will disappear and instead of call, the general option will appear.
How to save instagram story with music?
4. Using vanish mode
If you have already made a video or voice call on Instagram and want to delete call history inside the chat, then through the vanish features, you can`t do it.
But if you want to make Instagram calls in the future to anyone and also want that your call history or details couldn't be saved inside the chat or call history list of Instagram, then you need to switch your chat to vanish mode.
Basically, Vanish mode is a great feature of Instagram that allows Instagram users to chat or call privately. It means call details or history or whatever you do relate to the Instagram chat, that doesn`t save.
Follow the below procedure for clearing call history of instagram chat by vanish mode for future:-
Open the Instagram chat to whom you want to make call as well as also want that call history record doesn`t save anywhere in Instagram app.
Tap on 'I' button and then turn on vanish mode You can just Swipe up your chat to turn on vanish mode of a particular chat.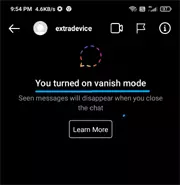 By following the above process, you would have known well for avoiding keeping a record of Instagram calls history detail using the vanish mode.
How to change instagram chat theme?
How to see instagram private account post?
FAQ on Deleting Instagram call history
How do I check the video call history on Instagram?
Firstly, you can see the Instagram call history inside an individual chat.
Secondly, When you tap on the message icon for viewing your chat list, then by tapping the call option also chat history of Instagram can be seen.
Can we delete call history from Instagram Web?
As you know the call option for viewing the call history doesn`t appear on the Instagram web if you access it from pc or laptop. So, you cannot delete call history from the call option on the Instagram web.
Can we unsend audio & video call history inside the Instagram chat?
No, you cannot unsend call details of Instagram chat as the option is not provided by Instagram. The only other way to delete call history from Instagram is to clear all chat history of a particular Instagram chat.
Conclusion
I hope that you would you have understood well to delete call history in instagram? Now, You by knowing this procedure you can delete or remove any call history from instagram at any time.
It's very necessary to know about it to secure your privacy as you can need it at any time. Every possible way is mentioned in this article by us for deleting Instagram video call history from Instagram.
If you have any query related to clearing Instagram call history then you can ask us without hesitating by commenting.