Do you also not able to see Facebook dating features on your Facebook application? If yes then you are at the right place to know that why facebook dating not showing up and how to fix it?
As we all know Facebook is one of the most popular social media platform all over the internet. Recently, a few years ago it has launched 'Facebook dating' features on its platform.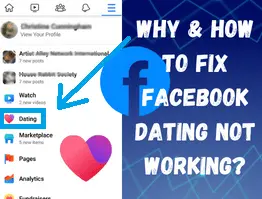 The Facebook dating feature is very helpful for people to meet each other and find a good partnership according to your region.
So, if you are also interested in it then you may create a facebook dating profile to use these features. But many of them face issues that facebook dating not working or appearing.
So, If you are also finding facebook dating unavailable then you don`t have to worry because we have mentioned the procedure on How to activate facebook dating features? and also its reason.
How to Hide whatsapp chat? with lock
Where is Facebook Dating Feature?
Many of the people have query that where is FB Dating features? Because they aren`t able to see the Facebook dating features easily.
Facebook dating feature is available only on Facebook application on their android and iphone smartphone. If you try to find from the Computer or browser then you won`t be able to see it.
So, Facebook dating is not available on its official website. Just you need to open your existing Facebook account on Facebook app and tap to the 3-line menu bar.
There facebook dating features appear if you are eligible. Below the reasons and eligibility are mentioned which you can read.
Why FB dating not working? what happened to facebook dating
We have mentioned the 10 reasons for the Facebook dating features not showing on your facebook app issue. The first three reasons listed below are also the eligibility criteria according to Facebook.
How to delete facebook account without password?
1. Younger than 18 years age
According to Facebook, an individual older than 18 years is allowed to use the Facebook dating features. So, if your age is less than 18 years as of now according to your Facebook account then you won`t be eligible to use it.
If your age is really below 18 years then you must not use this facebook dating feature as it is not right for you. But if you think that your date of birth is mentioned wrong and actually, you are above 18 years.
Then, you can change your date of birth from facebook account and get it.
How to see unsent message on instagram?
2. Facebook Dating may not available in your country
According to Facebook, the Facebook dating feature is available currently in around 43 countries. Facebook dating features are not launched in every country.
So, it may be the main reason why you are not able to see the Facebook dating features in your Facebook app. Below is the name of the countries where the Facebook dating feature is available.
| | | |
| --- | --- | --- |
| United Kingdom | Mexico | Germany |
| Singapore | Malaysia | Thailand |
| Netherlands | France | Austria |
| Finland | Italy | Philippines |
| Slovenia | Ireland | Argentina |
| Colombia | Iceland | Vietnam |
| Chile | Peru | Lithuania |
| Portugal | Suriname | Hungary |
| Bulgaria | Bolivia | Czech Republic |
| Ecuador | Liechtenstein | Luxembourg |
| Cyprus | Cyprus Guyana | Uruguay |
| Canada | Norway | Brazil |
| Poland | Belgium | Denmark |
| Malta | Croatia | Estonia |
| Laos | | |
List of countries where FB Dating is available
How to Turn off read receipt on instagram?
3. Having a New Facebook account
If you created your Facebook account 30 days then this also can be the reason for Facebook dating features not displaying in your Facebook app.
So, if you have your own other facebook account which is older than 30 days then you can use that for facebook dating features. Otherwise, you should wait until your account older than 30 days.
How to send Gift message on instagram?
4. Accessing from Facebook website
If you are trying to get the facebook dating features from your computer or laptop system by visiting to the official website of facebook then you will not find there.
Open your FB account on your android or iPhone using the Facebook application and there facebook dating features are available. Even if you find it through the browser of your mobile then also it won`t appear on the FB website.
5. Facebook app may not be updated
If your Facebook application is of the older version and not updated to the latest version then this may be also the cause of FB dating not appearing on your facebook app.
Just visit the Play Store or AppStore of your mobile according to the device and update from there Facebook application.
6. Location Turn off
Facebook dating requires your current location which helps to meet your region of people.
If the location of your phone is switched off then it may also be the cause that the FB Dating not showing up or Fb dating not working.
7. Facebook-Server Down
There may be also one reason that the time at which you are trying to open facebook then could be server-down.
By the way, this problem doesn`t happen usually but server down could be also the reason. If this issue appears, then you can`t do anything.
It will be fixed within a few hours and then you can try accessing Facebook dating.
8. Disabled Facebook app notification
If the Facebook application doesn`t have permission for notification then this may also lead to the cause of Facebook dating option not showing. 
So, to avoid the reason of notifications for appearing fb dating in your Facebook app, you should give permission to your Facebook app for notifications.
If you don`t know about it then no need to worry as we have mentioned the step-wise procedure in the section of the solution of fb dating unavailable below.
9. Not connected to Internet connection
Sometimes by mistake, we try to open some apps or features which require internet even if the internet connection or wifi connection is switched off.
So, make sure your data connection or wifi connection of your smartphone must be turned on then try to open the Facebook app for finding the FB dating feature.
10. Facebook app cache issue
Due to the Facebook app cache also, FB dating features could not appear even if you update the Facebook application from your mobile phone. So, also try clear caching your FB app.
How to Fix Facebook dating not showing up – Solution
Above, we have seen the reason of why facebook dating not available on your facebook app. So, if you have found some of the reasons and not able to fix yourself then below step-wise process is mentioned.
How to show offline in whatsapp when you are online?
1. Change DOB Above 18 for FB Dating
If there is a wrong date of birth in your facebook account due to which your age is 18 year below and not able to access fb dating feature then you can change it.
Follow the below procedure to change DOB on FB to fix facebook dating not working:-
Tap to the menu bar and then tap to your FB Profile.
Tap to the See your about info option.
Scroll down and tap to the birthday option in which your wrong date of birth would be mentioned.
Now, set the correct date of birth and then tap to the save button.
2. How to Reinstall Facebook for FB Dating feature
Long press the Facebook application on your home screen and tap to the uninstall or drag it to the uninstall option.
As the Facebook app is uninstalled completely from your device then again install by visiting to the playstore or appstore.
3. How to turn on location to facebook
As we have discussed above that the location is a must for the facebook to use facebook dating features. Follow the below procedure to give permission of location to the Facebook dating app:-
open setting < Tap to the App.
Select Facebook application and tap to the App permission option.
Now, tap to the location for allowing it to access to the FB App.
4. How to turn on facebook app notification
Follow the below procedure to allow facebook for notification to fix how to get facebook dating back:-
Go to the setting of your phone.
Tap the Notification option.
Select the Facebook app and then toggle it to allow notification to the Facebook app
5. Clear cache to fix can`t see Facebook dating
If any method doesn`t work the above then you should also clear the cache of your facebook app as it may also the cause of facebook dating feature not appearing.
Long press the Facebook application and then tap to the app info.
Tap the clear cache option to remove all previous cache of FB app.
6. Contacting to Support to fix FB Dating not working
If you have been followed all method and then also can`t find facebook dating then the last only way is to contact to the facebook help support.
Follow the below procedure for contacting to the Facebook support to fix fb dating not showing up issue.
Tap to the menu bar of Facebook and tap the Help & Support option.
Tap to the Report a problem option and tap the continue to report a problem.
Click the 'include in the report' and then select the setting from the list.
Now, describe your issue about the FB Dating not working and send the issue.
Conclusion
I hope that you would have known well why facebook dating not showing up in your facebook app and how to fix it?
We have mentioned 10 reasons for not being able to access facebook dating features on your mobile phone.
If you have any query related to the Facebook dating features then you feel free to ask in the comment below.