5G internet has become the perfect solution for businesses today, mainly due to its
super-fast connectivity, faster download and upload time, and seamless transmission.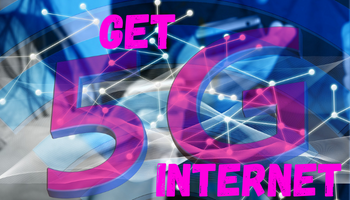 Also, with Airtel IQ, you can make your businesses more profitable as it is the world's
first network integrated CPaaS ecosystem especially designed to pull customer
engagement to the maximum potential.
Coming back to 5G office internet, it has certainly become an excellent option for many
business owners.Let us understand what it means and what makes it special in detail below:
What is 5G Technology?
5G is the fifth generation of mobile networks. It is the latest global wireless standard,
which is created to offer a faster connection speed than previous networks like 2G, 3G,
and 4G.
It is meant to deliver higher speed, lower latency, and greater capacity. It's safe to say
that it is one of the fastest, most robust technologies the world has ever seen.
Now that you know what 5G internet technology is, let's proceed further to understand
who invented it in detail below:
Who invented the 5G technology?
In 2019, South Korea became the first nation to adopt the fifth-generation network on a
large scale. The people of South Korea who used this technology majorly owned mobile
models like Samsung, Ericsson, and Huawei equipment.
Out of these suppliers,Samsung became the largest, having shipped over 53,000 base stations.
Today, there are over eight companies (besides Samsung) that sell the 5G radio
hardware and systems for carriers, such as Altiostar, Cisco Systems, Datang Telecom,
Ericsson, Huawei, Nokia, Qualcomm, and ZTE.
Since you know which country became the first 5G technology user, let's move ahead to
find out how this mobile network actually works in detail below:
How Does 5G Work?
5G technology uses high radio frequencies (which are less clustered) to transmit
information at a faster rate. These bands are termed 'millimeter waves' (mm waves) that
are used for licensing by regulators.
Although, these bands are great for transmitting information faster, they can experience
trouble with sending data over long distances. Why? They are quite easily blocked by
obstacles like trees and buildings.
Thus, the 5G networks make use of different input and output antennas to improve signals and capacity across wireless networks.
Additionally, it uses small transmitters, which are placed on buildings and streets.
Now that you know its functioning, let's understand the key features of 5G technology
below:
Key features of 5G:
1. Superfast speed :- One of the biggest selling points of 5G is its internet speed. Yes, you read that correctly.
It delivers 100 times faster speed than the current 4G networks, offering a speed of up to 10 Gbps.
2. Lower latency :- Delayed communication is a common problem with previous networks like 3G and 4G.
They have a lag of up to 50 milliseconds. However, this is no longer the case with 5G
networks. It reduces the latency to 1 millisecond (or lesser), making it possible to
communicate faster and better.
3. Increased capacity :- Every workplace requires multiple device connections. In that case, 5G comes to
everyone's rescue. Why? Well, it has an increased capacity to connect multiple mobile
devices at once.
4. Network scaling :- With 5G technology, a single network can be sliced into multiple virtual networks. So, it
is able to support Radio Access Networks (RANs) or different services running across a
single RAN. This, in turn, allows businesses to tailor the network for their requirements.
5. Improved reliability :- The advancements in 5G technology result in a reliable network. So, common issues,
such as call dropouts and internet downtime no longer persist.
The above-mentioned key features work well in creating an efficient workspace, wherein
businesses are all able to operate smoothly.
Thus, the 5G technology is considered an essential component for the success of any
enterprise. That's right. It has a greater impact on businesses due to its high-speed
benefits.
Let us help you understand some of the common impacts of the 5G technology on
businesses below:
How does 5G impact business?
1. Remote working :- If there's one thing that the lockdown taught us, it's that majority of businesses can operate in a decentralized manner. This simply means that employees can work remotely from any corner of the world. However, it completely depends on reliable mobile connectivity. Enter 5G. It allows everyone to carry out their business operations smoothly through distance working.
2. Augmented Reality (AR) and Virtual Reality (VR) :- AR and VR capabilities are no longer limited to the realm of online gaming. This is simply because it has also subsequently entered the business environment as 5G has enabled them. So, many industries, such as travel and tourism, retail, entertainment, etc. are seen adopting AR and VR innovations at a large scale today.
3. Rural innovation :- 5G allows people staying in rural areas to access the internet quite easily. So, they can explore many business opportunities, such as retail, agriculture, and so forth in remote areas.
4. Better Battery life :- Business owners no longer have to worry about the costs related to the replacement of batteries across industries. All thanks to the 5G technology! Yes, that's right. The 5G extends the battery life of all workplace devices – in some instances, even up to 10 times.
It's safe to say the opportunities 5G opens for the business sector are endless. There is
much more potential that needs to be explored. So, you should consult a leading 5G
provider like Airtel on the possibility of 5G connectivity (if you want to stay ahead of the
competition).
They offer some of the best 5G plans that will cater to your business needs. So, come,
let's find out more about them in detail below:
Price
Standard benefits
Added benefits
Rs. 999/ month
Unlimited data, internet up
to 200 Mbps, and unlimited
local/STD calls
2 Device Security licenses,
and 2 Airtel Bluejeans
licenses
Rs. 1,499/ month
Unlimited data, internet up
to 300 Mbps, unlimited
local/STD calls
2 Device Security licenses,
2 Airtel Bluejeans licenses,
and 2 Google Workplace
licenses
Rs. 3,999/ month
Unlimited data, internet up
to 1 Gbps, unlimited
local/STD calls,
Device Security licenses, 2
Airtel Bluejeans licenses, and
4 Google Workplace licenses.
In a nutshell, Airtel broadband for business' 5G network is an all-in-one internet solution, which is designed to support remote as well as mobile workforce. So, what are you waiting for? Get one of their plans of your choice for the success of your business!