Whatsapp is an app that many users love to use, but it lacks some features like it doesn't provide the chat hiding feature, etc. That's why many people use GB whatsapp.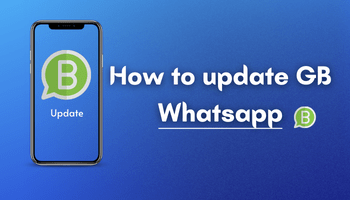 The problem with GB whatsapp is that it doesn't update automatically, so users have to update it manually. Now, the problem with some users arises because they don't know how to update it.
Are you also unaware of the same? No worries, because today's topic is – "how to update GB whatsapp?" Let's start – 
Check GB Whatsapp update
We often check for updates when we use an app and encounter issues in its functioning. Some people only want to use the updated version, and that's when they try to figure out the update. But as GB whatsapp is an apk, checking for its update differs from google play store/app store apps.
The steps are as follows – 
First method –
Open the GB whatsapp app.
Click on the three vertical dots at your display's top corner.
Hit the "foud modes" option.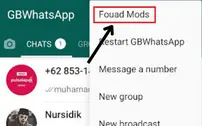 Now, move to the update section and click on "check updates."
Under check updates, the update will appear (if there is any).
Also Know:- How to tag everyone in whatsapp group?
Second method –
Open Google and search for the "GB whatsapp" update.
Check out the websites because some websites also provide their users with the updated apk. And some of them even mention when it was last updated, the file size, version, etc. So you won't find it difficult to find out whether the version you are using is updated or not.
Also Know:- How to unblock yourself on whatsapp?
How to update GB Whatsapp?
Well, I understand that if you are using GB whatsapp, you may want to use its updated version. And that's why I'm here to explain to you the whole procedure of updating, so be attentive –
The first thing that you have to take care of is that you can't update it from the google play store or app store. So just be ready to follow some different steps –
Open the GB whatsapp app on your device.
Smash on the three dots (vertically placed) at the top corner.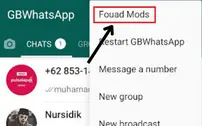 Head on to the update section.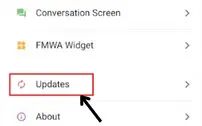 Now, click on "web download."

Select the browser you want to process the updating thing.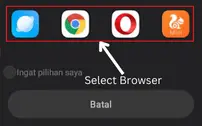 Hunt for the GB whatsapp package and hit the download option.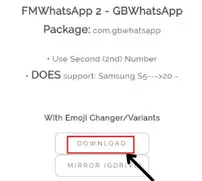 Wait for some seconds because it requires some time to get downloaded.
Open the GB WhatsApp file you just downloaded.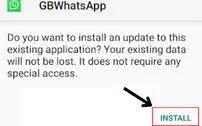 Wait for some moments (till the update completes).
That's all.
Also Know:- How to hide whatsapp chat?
Pros of updating GB whatsapp to newer version
Updates are essential to maintain the app, and there are various benefits of using the latest version –
Bug fixes :- Bugs are something that should be solved just after getting aware of them. Otherwise, these can cause a huge problem for users shortly. They can even lead to losing customers of the app. And that's why the app developers fix the bugs if they find any. After fixing the bugs, they make available the bug-free version, so if you want to stay away from bug issues, you should download the latest version.  
App performance :- Sometimes, the app's outdated version doesn't work properly. It lags and shows poor performance in various things. But having an updated version doesn't let you face these issues. The performance of the newer one is always enhanced. 
Security purpose :- The version of the app influences your security a lot. From time to time, hackers try to find loopholes in the system, so if GB whatsapp developers find any issue, they just fix it. 
New features :- We often experience that from time to time, we are offered new features in the app. So if you want to enjoy all the new features, you can get the updated version of your GB whatsapp. 
These are some pros of using the newest version of GB whatsapp.
Also Know:- How to change group icon in whatsapp?
Why Should you have latest version of GB Whatsapp?
Well, there are a lot of benefits if you use the latest version of Gb whatsapp. If you want to get those benefits, you should download its latest version. Wondering about the benefits? There are many –
Bug fix :- Bugs are something that can cause a lot of problems for you. Whenever the developers find any bugs, they just fix them and release the updated version. 
Performance :- Performance is always enhanced in the newest version. Not only this, but sometimes the old version also doesn't work properly. So if you want the best performance of the GB whatsapp, you should have the updated version. 
Security reasons :- Cyber-criminals always try to find loopholes in systems, and if they find the loophole, they can cause severe damage to your privacy. And that's why app developers check their system for loopholes from time to time, and when they find any, they instantly fix it. After fixing, they release the latest version, so you should have the latest one even for security reasons. 
Technology :- The new version lets you be in touch with the updated technology. 
New Features :- The app developers provides some new features in many updates, so to enjoy them, you should have the latest version.
These are some main reasons you should have the latest version.
Also Know:- How to show offline in whatsapp when I am online?
FAQ on Update GB whatsapp
How can I update GBWhatsApp without losing chat?
Many of us want to keep the chats as it is. But while updating the GB whatsapp apk, we get worried about losing chats. So take a backup of all the chats first and then install the new version; your chats will not be deleted. 
 
How Can I update My GB WhatsApp when it is out of date?
Updating the GB whatsapp isn't the same as the google play store or app store apps. So some different moves are required to update it. I've mentioned all the above, so read from there.
Is it safe to use GB whatsapp?
Well, to be honest, apk files are not considered safe because they might contain viruses that can harm your device in the long term. 
 
How can I update MY GB Whatsapp if app not opening?
Don't worry if the app isn't opening; you can uninstall it. After uninstalling, install the latest version from google. But make sure you get it from any reliable website.
Also Know:- How to record whatsapp call?
Conclusion
This is how to update the GB whatsapp. I hope you received all the information you were expecting in the article. Wanna ask something regarding the same topic? The comment section is all yours; I would love to answer you.