Have you purchased a new BSNL SIM? Have your BSNL SIM Deactivated? Or have you Ported to BSNL SIM? If yes then you will need to know that How to activate bsnl sim?
Nowadays, if you purchased a new SIM of any telecom operator then the customer needs to activate that SIM even the activation process is done by the distributor or office.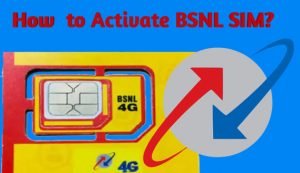 If you don`t recharge and use your SIM Card then the sim card get deactivated of most of the telecom operator SIM Card except such as JIO and other sims.
There are many situations in which customers need to follow the same procedure to activate the SIM Card. So, if you have such a problem with your BSNL SIM then you don`t have to be a worry.
We have mentioned the step-by-step procedure on activation of BSNL SIM Number in this article according to the condition with the help of a screenshot. So, let`s know about it.
How to do the activation of BSNL Number in 3 conditions?
There is 3 condition in which SIM users need to activate the BSNL SIM Number. So, when you buy a new BSNL SIM, After expiry or deactivation, and After porting into the BSNL SIM.
Therefore, these are the three Situations in which you have to follow the different procedures for the activation of the BSNL SIM. So, you can follow accordingly to the condition of your BSNL SIM Card.
How to activate bsnl 4g sim through tele verification?
The procedure to activate all SIM Card through Tele verification are the same, only the number to call and way of verification is different.
So, you have to call the particular number which is an IVR Call in which they will ask something and you have to provide that detail. In this way, Tele verification will be done and your BSNL Sim will get activated.
You have to note that this procedure is for those BSNL SIM customers who have currently purchased a new BSNL SIM Card through the BSNL SIM Distributor or Office.
Follow the below points to do the Tele verification of new BSNL SIM Number:-
Insert your new BSNL SIM Card in the sim slot of the mobile. (Insert that sim which is registered to your name through the BSNL Distributor)
As you insert then within a second network will come on that sim.
Dial 1507 from a new BSNL SIM Card. (It is an IVR – Interactive voice response Call in which you have to respond through the dial pad)
You can do the verification through the OTP or aadhar card.
So, select according to your choice and enter the detail of it.
As you provide correct detail to them then Tele verification will be completed.
As the process is completed of bsnl tele verification then your BSNL SIM Number will get activated within a few hours. And as the sim gets activated then all the services will get activated such as Calling, internet, etc.
(If you want to know that how to activate jio sim then you can visit to this article by clicking this link)
How to activate bsnl sim after expiry?
If we don`t use a sim card for few months and don`t recharge on a number then the BSNL SIM Gets deactivated. So, in that case, also you need to activate that sim card.
Even if you do recharge in that sim after the deactivation then it also SIM do not reactivate. But it is not like that it will not switch on permanently.
By the way, if your BSNL SIM has been deactivated then there is not any way to activate it by yourself by following some procedure as in the above situation.
So, you will need to visit the BSNL Office of your nearby places to activate your BSNL Sim which has been deactivated. Therefore, as they told the process you have to follow for the reactivation of your BSNL SIM.
How to activate bsnl sim after porting?
I would like to tell you that you don`t have to follow by any procedure for the activation of BSNL SIM after porting. As the new sim card is provided to you by the BSNL office or distributor then the sim gets activated automatically within a few hours.
You do not need to do any tele verification or other procedure. As the bsnl sim gets activated within a few hours then all the calling and internet service will be also activated.
Many of them are asking or searching that how to get activated a bsnl number after porting then we have provided the query of that question.
FAQ on How to activate BSNL SIM Number
How can I know my BSNL SIM is active or not?
It is very simple to know the status of your sim whether that is BSNL Number or another Number. Just you have to insert on your mobile and you can check active or deactivate status through call or USSD Code.
You have to just call any number and make sure that there is an active recharged plan. If the sim is able to make call then your sim is active but if not then your sim is deactivated.
Or you can just dial a code *123# and if the sim will be activated then the balance will show even if there will be 0 then also. But if the sim will be deactivated then there will be mention that account deactivation.
How long does it take for BSNL sim to get activated?
It depends on the condition that in which situation you have requested for the activation of the sim card. If your bsnl sim is new and you have activated through the tele verification then it will take only few hours to activate all services completely.
But if your sim has been deactivated for few months and again you have requested for the activation then it will take few days. So, the time-taking process depends according to the reason for the activation of sim card.
Do we need to pay money for Tele verification for activating bsnl sim?
No, you don`t have to pay any charge for tele verification of bsnl number. 1507 is a tool-free number in which any balance will not deduct from your bsnl number.
As well as these, you don`t have to give any money for it in bsnl office or anywhere.
Conclusion on activation of BSNL number
I hope that you would have known well that how to activate bsnl sim? in every condition. The screenshots are also mentioned below the step of the procedure, So that you may get help to follow the activation procedure.
We have an expectation that you would have understood very well the activation procedure of the BSNL SIM Number. Some of the Frequently asked questions related to the activation of bsnl sim are mentioned in this article.
If you have any problem related to the BSNL Activation process then you can comment below, we will try to reply to your query.