Are you also frustrated by the spam call or messages from telecom operators and other companies in your Vodafone or idea? If yes then you will need to enable DND services. So, if you want to know that how to activate dnd in vodafone and idea then you are at the right place.
Many times happen that randomly-spam calls and messages comes in our mobile due to which we get disturbed during our any work. So, TRAI (Telecom regulatory of India) has established DND Services to avoid this massive problem among mobile users.
The full form of DND is Do not disturb which clearly means that activating the dnd services will not disturb the mobile users. DND Services are available in every telecom operator because it is linked through the TRAI Government of India.
As you request for the dnd on your number then within 3 – 14 days, DND services will be activated successfully on your number. Then, you will not receive any calls and messages from the telecom operator and companies.
If you have a Vodafone or idea Sim Number and want to set do not disturb services then we have mentioned step by step procedure. Therefore, you don`t have to worry about it.
What does No Service Validity Means?
How many Types of DND Services are there for every operator?
There are two kinds of Do not disturb services that are given in every operator which users can select according to their need. They are Full dnd and Partial DND.
Now, you may be thinking that what is Full and partial do not disturb. So, if you don`t know about the full and partial dnd services then let me tell in brief.
Full DND Services:- By activating this full dnd option, all unwanted SMS and calls will be blocked which come from companies and other services. Every category of promotional or advertisement will not be done through your Calls and SMS on your number. As well as for always until you don`t deactivate.
Partial DND Services:-  You can guess the work of these dnd services by knowing the "partial" word. If you activate the partial dnd services then you get various options to select. You need to select the category, mode of communication, and days to stop those messages or calls.
Following are the categories available in partial dnd services to select:
Banking/ financial/ credit & debit cards and other services related to the banking sectors
Educational related services or product
Health-related category or product
Communication & internet relate services
Real estate-related services or product
and other many services will be available to select when you choose the partial dnd services.
How to activate call waiting in idea, vodafone, airtel, JIO etc.
How to enable Do Not Disturb in Vodafone & idea? 4 Ways
There are various different techniques to subscribe to the DND Services on your Vodafone or idea number. They are through the Vodafone official app, Vodafone official web portal, SMS, and IVR Call.
We have introduced the step-by-step process of each method for activating do not disturb services on your Vodafone sim number. So, you can follow any method which you feel easy.
Since the procedure for Vodafone and idea are same because they have merged together. Therefore, the process of activating any services is almost the same for both operators.
1. Activate dnd in Vodafone & idea SIM using official application
As we have mentioned that both Vodafone and idea operator are merged That`s why almost every service is provided to the customer online through their VI official app and website.
So, you can activate or deactivate the dnd service in idea or Vodafone at any time through the help of the VI application. As well as these, you can use many services through this official application of Idea and Vodafone.
If you are Vodafone or idea user then you should definitely install this application on your smartphone to track data from your number. So, let`s that it's a process step-wise.
Follow the given below steps to Set DND Services on idea and Vodafone Number by app:-
Firstly, install the VI application from Play Store on your android smartphone as you install other applications.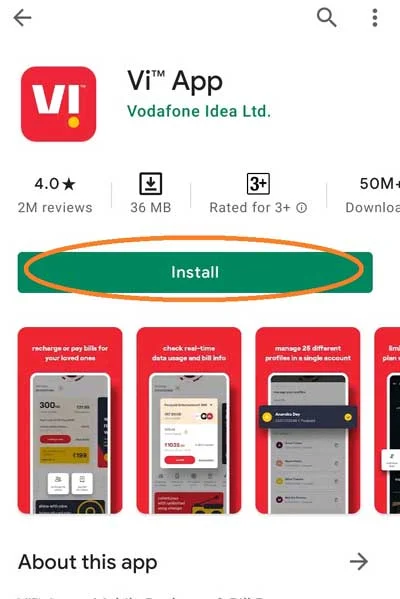 Open the VI app on your mobile.
Enter your mobile number whether it is Vodafone or idea and then click to Send OTP.
Now, enter OTP, and then you will be logged in VI app using your mobile number.
Click on the My Account option.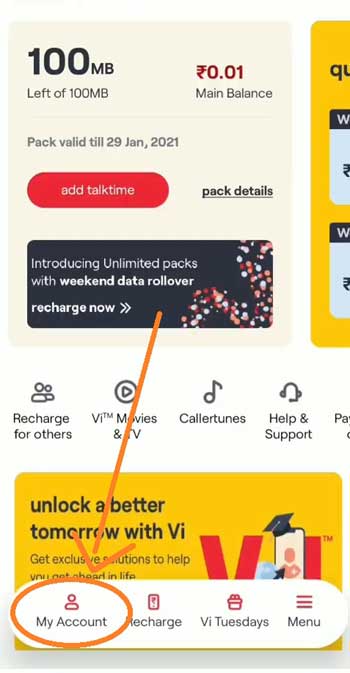 Click on the do not disturb (dnd) option which is the last in the more services section.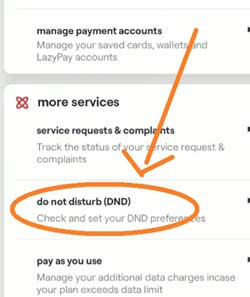 Then, you have to click the full dnd option.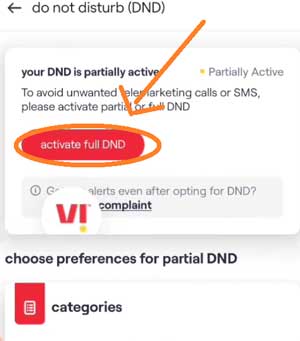 As you click that then you will be asked for confirmation. So, click on the yes option. Or you can stop the calls and messages by selecting the category, days, and mode of communication and then by clicking on the submit button.
How to remove channel in airtel DTH?
2. Set DND Using Website
As we have seen above that we can enable dnd services on idea and Vodafone operator by using their official application which is VI app.
In the same way, there is an online web portal of vi through which you can also activate or manage do not disturb services of Vodafone and idea number.
This process can be done through the computer or laptop system also because it is through the website. Or you can also do through your smartphone the process that we have mentioned below.
Follow the below-given steps to to activate dnd in idea and Vodafone sim through the website:-
Firstly, visit the official website vi.com which is of Vodafone and idea both.
Scroll down below and click on the DND Registration option which will be in the regulatory section.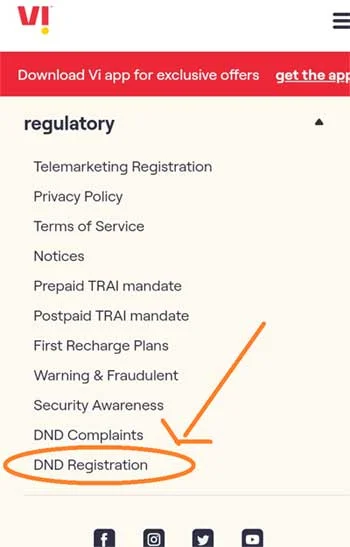 Enter your idea or Vodafone mobile number and then click on the send OTP button.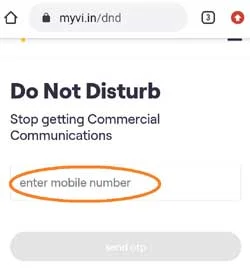 Now, enter the OTP and then click on to Verify option.
Select the full dnd or partial dnd option according to your wish and then click on the submit button.
Finally, you will be notified that successfully requested for dnd and wait for the next 24 hours for completely activating on your Number.
As well as these, you will also get the Request ID of your dnd service through which you can track the process or you can complain to the VI or TRAI.
3. Turn on DND Services using SMS
By the way, you can apply this method for activating dnd services on telecom operator sim because it linked through the TRAI. Just you will need to send the SMS to a particular number.
If you follow this method then it may take more time to fully activated as compared to the above online method. because the activating of the process of dnd goes through the TRAI to the telecom operator.
Follow the given below steps to Stop unwanted messages and calls by activating dnd through SMS:-
Open the message box of your mobile
Type START 0 to activate dnd on all categories, all modes of communication, and always. If you want to enable dnd for a particular service then you will need to send the following messages:-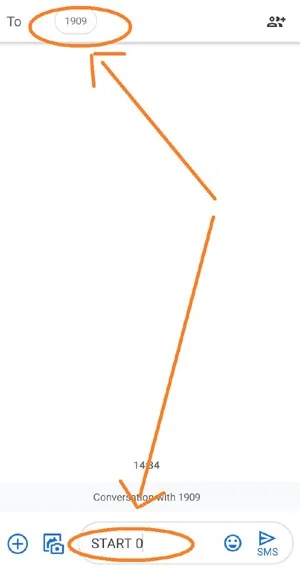 START 1 for banking-related services
START 2 for Real estate services
START 3 for Educational Services
START 4 for Health category services
START 5 for Consumer goods and automobile-related services
START 6 for communication & Broadcasting services
Send the messages to 1909.
As you send the messages then after a few seconds, you will be sent the messages that your request for dnd services has been done. So, you will need to wait for few days for activating it on your number.
4. Using IVR Call
The IVR is also one of the best mediums through which users can manage any services mostly related to the telecom operator, bank, etc. You can activate dnd services, just by calling the toll-free number and by following their instruction.
Follow the below points to activate do not disturb services on your number through calls:-
Just dial and call to 1909 toll-free number from your mobile.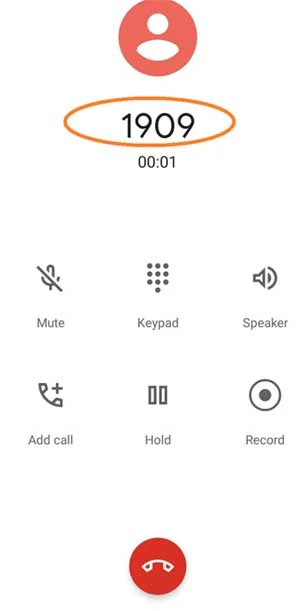 Press 1 to the registration of dnd services.
Press 1 for partial dnd and 2 for full dnd.
Press 1 for confirmation.
In this way, you can easily activate dnd services on any operator of the sim card. It is also a simple procedure as an SMS method.
How to set caller tune in Jio? 
How to Deactivate Do Not Disturb on Vodafone & Idea?
After activating the dnd service if you want to deactivate in the future then you can follow the method. There are various methods for deactivating dnd services on your Idea and Vodafone number as an activating.
They are through the Vi official website, Vi application, SMS, and Smartphone. The process for deactivating will be almost the same as activating but some of the steps will be different.
Deactivate Do not disturb using VI website:-
Visit the official website myvi.in and then click to then click to the DND Registration.
Now, log in by entering the mobile number and OTP.
Finally, select the Deactivate option and then click on the Submit button. After few days, dnd services will be deactivated on your number.
Deactivate Do Not disturb services through App:-
Open the vi app and then log in with the same mobile number in which you have activated dnd services.
Click on My Account and then go to the Do not disturb option.
Select deactivate dnd and then submit.
Follow the process for disabling dnd through SMS:-
Send STOP Messages to 1909
Follow the process for deregistering dnd through calls:-
Call 1909 and follow the instruction for deactivation
How to activate JIO SIM Number?
FAQ on Vodafone/Idea DND Activation
Does DND stop bank SMS?
No, any important or transaction SMS will not stop from your bank by activating do not disturb messages. If the mobile number is linked to your bank account then any messages will not be blocked from that Bank.
How do I stop Vodafone spam calls?
TO stop spam calls that come from telemarketing and other companies, you will need to activate the do not disturb mode on your Vodafone number. So, just you need to request for activation, and then it will get activated within a few days.
Is DND service free?
Yes, DND (Do not disturb) service is free for every operator of phone number which you can activate it easily and stop unwanted calls or messages of spammy.
What to do if DND Services not activated after requesting?
After requesting the DND on any operator of Sim whether it is Vodafone or airtel or jio, if it does not get activated within 1 month. Then you need to register complaints to the TRAI or Telecom operator of your number.
What is the code for do not disturb in VI?
By the way, there is no code to activate DND in vi but you can send message for activation to 1909 or can do IVR call to 1909.
How to set caller tune in BSNL?
Conclusion
In conclusion, we hope that you would have understood the process of activating Dnd in Vodafone and idea Number using the various methods.
As well as these, whenever you need to deactivate this service then also we have mentioned the process for it. Also, we have mentioned Frequently asked question`s answers which makes confusion in your mind.
Ultimately, we have tried to explain everything about the dnd service related to the Idea and Vodafone. The online methods through the website and application that we have mentioned are for only Vodafone and the idea number.
And the methods which we have shared through SMS and calls are for the very telecom operator Mobile numbers such as Jio, Airtel, Vodafone, Idea, BSNL, etc.