Flipkart is an eCommerce platform that millions of people use for online shopping. When any user searches for anything here, it saves the search history.
But for many reasons, users want to clear the searches of Flipkart. Do you also want to search clear this search history?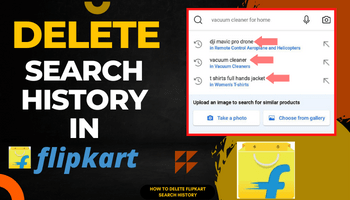 Yes? I'm here for you to tell you different ways to delete this record. But the most important thing that you need to know is that Flipkart doesn't provide any direct search history clearing feature.
Now without delay, get straight to the methods to know that how to delete search history in flipkart?
Can you clear search history in flipkart?
Want to clear the search history of Flipkart? You can but let me tell you that there is no direct way of removing it from the application itself.
You need to follow some other methods to delete it, like searching for more products, clearing cache, clearing data, etc.
You have three to four different modes, so don't be concerned about how you will do it if there is no direct method.
How to download invoice from flipkart?
How to delete flipkart search history?
Following are the different methods that you can use according to your choice for deleting the search history. Below is the detailed description of each-
1. By searching more other product
The search history shows the latest six searched stuff. So if you want to let it go, you have to search for about six new different things.
Once you do this, the old searched stuff will disappear by itself, and new searches will be shown.
You can try this method on both the Flipkart website and the application. If you are using the Flipkart application, then the following three methods can also be used.
How to activate flipkart account?
2. Clear cache of Flipkart app
Clearing cache is also a beneficial method to delete the search history. Once you clear the cache, temporary stuff will be deleted from the application, including recent searches.
How can you clear the cache of the Flipkart application?
It's simple-
Go to the application on the home screen and then hold it for a few seconds.
Smash on "app info."
Now, move to the storage and cache option.
These two options will display on your screen – "clear cache" and "clear data."
Hit on the clear cache feature.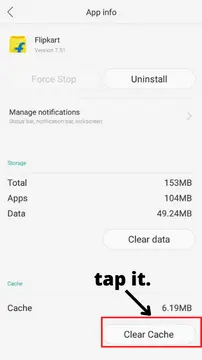 Confirm this step if asked.
Done..!!
3. Clear data of Flipkart app
Before moving to this step, let me inform you that you'll be logged out of your Flipkart account. So if you are ready for this, you can also try this option of clearing the search history of Flipkart.
How??
It's easy-
Hold the Flipkart application for a few moments.
Tap on "app info" appearing on your display.
The next step is clicking on the "storage and cache" option.
From there, click on "clear data."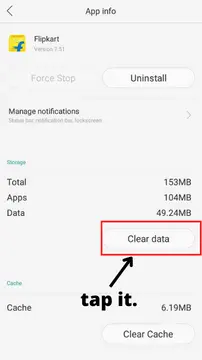 Verify that you really want to clear data.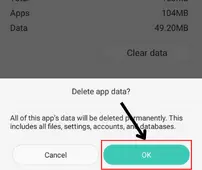 That's all.
4. Reinstall Flipkart application
Reinstalling the Flipkart application is also a great option for clearing the search history. And additionally, it also doesn't require much effort. It will just take some seconds, but only if your internet speed is good.
How can you reinstall the Flipkart app?
The process is straightforward-
It has two subparts – uninstall and then install.
Uninstall
Hold the Flipkart app for some seconds and then click on uninstall.
A pop-up will appear on your screen, asking you whether you really want to uninstall or not.
Now, it's time to reinstall. How?
Turn to the google play store/app store.
The installation speed will depend on your internet speed. After it installs, log in to the app again.
5. Clear cache & data of Browser if using any browser
Do you use any browser for exploring Flipkart? No worries, this method is a perfect fit for clearing the search history of Flipkart in the browser. In this method, you must clear the cache and data of the browser you are using.
How can you clear the cache and data of the browser you use?
Follow the steps-
Tap on the browser for some time and crash on "app info."
Move to "storage and cache" from there.
Now, you can glimpse "clear cache" and "clear data" there.
Clear both one by one.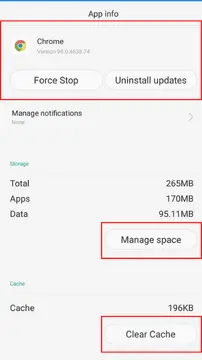 Done..!
FAQ on deleting search history in flipkart
How to clear search history in Flipkart in Chrome?
Clearing the search history of Flipkart in chrome can be done with two methods. Those are –
● Search for more stuff, as it will disappear from your previous searches.
● Clear the data and cache of chrome.
How do I delete searches from Flipkart?
Deleting searches from Flipkart can be done via various ways. I've mentioned all those mentioned in the above article; you can follow those steps properly to delete the searches.
Conclusion
So, pals, I've thoroughly detailed the methods of clearing Flipkart search history. I guess you have got all the techniques properly.
But in case, I lacked somewhere or you have any questions, feel free to ask in the comment portion.