Hi guys, I know you were a Swiggy user and now you want to know how to delete Swiggy account. So to delete your Swiggy account follow the methods I mentioned in this post.
Swiggy is an India Online food ordering and delivery platform. Swiggy was founded in 2014 and now they provide its services in 500 cities all over India.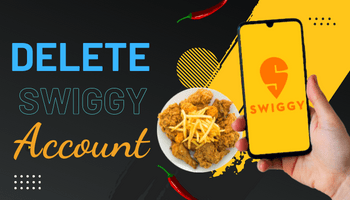 Many times we are hungry and we don't want to cook food or else we want to eat something that we can not make in our home because of a lack of recipes.
So to solve these problems only Swiggy was launched we can order food from Swiggy from our favorite restaurants and they will deliver food to our home.
But many times they charge lots of money in the name of delivery charge and food listed on these platforms is also very high priced. So if you are also fed up with this problem and want to leave the Swiggy platform then read this complete post.
How to cancel order on zomato?
Can you delete Swiggy account?
This is one of the most common questions that is asked by many peoples can they delete their Swiggy account or not? So let me answer this question there is no direct option given the Swiggy app or website to delete your account.
But there is one method by which you can easily delete Swiggy's account. So if you also want to know about that method that how you can delete your Swiggy account then read this complete article and after that, you can easily delete your Swiggy account.
How to delete Swiggy account?
As you know there is no direct option given in the Swiggy app or website using which you can delete your Swiggy account. But there is one way by which we can delete our Swiggy account and that is by sending a mail to them.
If you go to help and support option to deactivate on swiggy app then there also shows to mail them. Let see it what they tell:-
Open swiggy app and tap to the account option.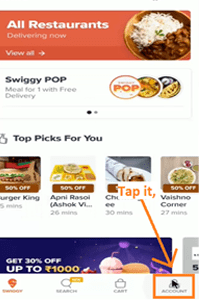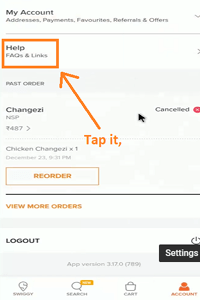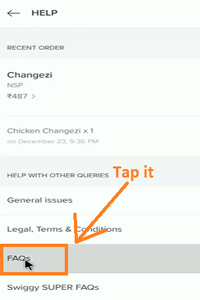 Tap to the Deactivate my option and you can see there written that "please write to us at support@swiggy.in in the event that you want to deactivate your account".
According to the rule given by the government of India, no platforms can keep the data of users without their permission. So with the help of this only we can request Swiggy to delete your data from their database.
How to write emails to deactivate Swiggy account?
To write emails to deactivate your Swiggy account follow the steps given below.
First Open Email in your Device
After that click on Compose mail
After that write an email to

[email protected]

And after that send the email and within a few days, your account will be deleted.
Demo How To Write Email
Subject: Request To Delete My Swiggy Account From Your Database
Dear Swiggy Team,
I am a user of Swiggy with the name (Your Name) and the email address (Your Email ID) that is connected to the account registered in your Database.
Now Because for some reason, I've decided to delete my Swiggy account. So I request that you kindly delete my Swiggy account from your database and also delete all the information from your database.
Your Name
Registered Email Account
Registered Phone Number
Thank You
What should you do before deleting the Swiggy account?
So if are also such people who don't know what things they should keep in kind before deleting their account then don't worry because I am here to tell you what you should do.
First of all, you should unlink your bank details or lease all other payment methods in the app so that they can no longer use your data. This is the most thing that you should do before deleting your Swiggy account.
And the second thing is many people want to delete their orders also before deleting their account so you can do that also.
Remove or delink payment method from Swiggy
So if you want to remove your payment method from Swiggy before deleting your account then follow these given steps.
First Open Swiggy app
After that select your account tab
Then click on the 'payments & Refunds' option.
Then click on the dropdown menu.
After that Select 'payment Modes'.
Then your saved payment mods and methods will appear on the screen
Now Tap on the Delink Account.
Then Confirm for the same, so click to Delink Account.
How to delete Swiggy order history?
Well, you cannot delete your order history in Swiggy but you can hide them or archive them so that they will be unavailable to see in your history. So if you also want to hide or archive your orders then follow these steps.
First of all Open Swiggy App
After that Login
Then go to the view orders section situated in the app in the right corner
After that select the order you want to delete
Now you can hide or archive your selected order
After that selected order will go to your archive order section.
FAQ on Swiggy Account Deletion
How to stop getting notifications from Swiggy app?
If you want to stop getting notifications from Swiggy then you can easily turn it from the settings of your phones. First, search notifications in your settings after that select Swiggy and then turn it off.
How do I unsubscribe from Swiggy?
To unsubscribe from Swiggy first of all log in with the email address that you have used to login in Swiggy after that open any mail sent by Swiggy after that click on the unsubscribe button at the bottom of the email.
how to delete my swiggy account?
To delete your Swiggy account you can write a mail to Swiggy at [email protected] requesting them to delete your Swiggy account. And after this in 2-3 working days your account will be deleted.
Can I cancel swiggy order?
No, you cannot cancel orders in Swiggy once you have placed but you can try contacting customer care and after that with a fine of 75 rupees or more sometimes your order may be canceled.
How much time it will take to deactivate swiggy account permanently?
It is not fixed how many times will it take to deactivate your Swiggy account sometimes your account will be deleted in 24 hours and sometimes it can take 2-3 working days also.
How to remove Swiggy account from other devices?
To remove Swiggy account from other devices follow these steps first go on account > scroll till the bottom > tap on the logout option, there it shows the no. Of active devices and tap on logout in front of the device
Conclusion
So now I hope now you are aware of all the methods by which you can delete your Swiggy account.
But if you still have any doubts regarding how to delete the Swiggy account then you can ask me in the comments I will definitely reply to you with the solution.
I have tried to explain to you in detail with photos and videos and many FAQs related to this topic. So that you can get complete information on this subject.