Do you want to know that how to remove jio caller tune from Jio Sim on your smartphone? If yes, then you are at the right place to deactivate your caller tune.
As you are knowing that Reliance Jio offers for their users to set or activate jio caller tune for completely Free. Whereas if we see about the other operator to activate Caller tune, then we need to pay the charge for it.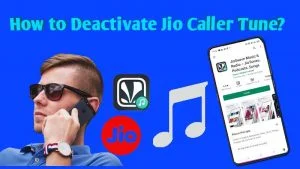 But there is completely free of cost in Jio sim. The users of Jio Sim are eligible to activate any caller tune according to their wish. As well as these, they can change and Deactivate Jio Caller tune at any time according to their wish.
If you have already activated calling the tune on your Jio Sim. Then by some of the reasons you want to stop it such as the users feel boring after a long time by listening one song.
By removing jio caller tune, your caller tune of Jio Number will be activated as it was previously. Therefore, in this article, you will be guided step by step on deactivating and changing the caller tune of Jio Sim.
How to set jio caller tune using 5 methods?
How to deactivate caller tune on Jio Sim? 4 Methods
Many of the users' searches and want to know that how to stop jio caller tune using the JioSaavn app? But I would like to tell you that there is not an option given for deactivating.
So, you cannot remove caller tune from the JioSaavn app. But there are 3 ways to Remove jio caller tune from jio sim on your Mobile. They are through the My Jio Application, Sending messages, and IVR which is through the calling services.
Below we have mentioned the full procedure with the help of a screenshot of 3 methods to Close caller tune from the Jio Sim. So, let`s know.
How to get Jio Fiber connection – Broadband for super fast internet
How to remove jio caller tune using my jio application?
As you might be knowing that MY JIO is the official application of Jio operator to manage almost every calling and other services of Jio Sim. If you are a Jio user then you must install this on your Smartphone.
There are many features and the facility provides the My Jio app such as Jio call details, Internet balance, Call History, Recharge, prepaid to postpaid, Help & Supports, etc.
If you don`t know that about the caller tune features in the My Jio app then I would like to tell you. You can also set jio caller tune through the My Jio application.
In the same, you can also Stop jio caller tune through the My Jio Application. So, let`s know it.
How to watch Jio Tv on laptop and computer?
Follow the given below points to Remove Jio caller tune using My Jio app :-
If you have not installed My Jio App on your smartphone then Firstly, install it from the playstore. Just you need to open playstore and search it and install it.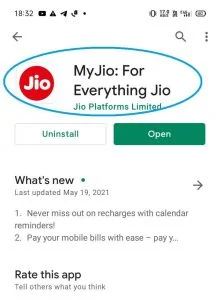 As it installed on your phone then log in by entering your Jio number and the OTP (One time password).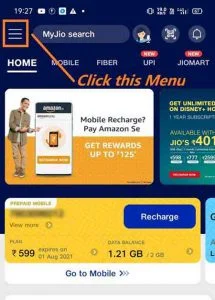 Click to the Menu icon (3 bars) which is on the Top left corner side as you can see in the below screenshot.
Then, click on Jio Tunes option.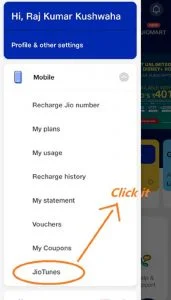 Now, you will be entered on the "My Subscriptions" page.
Click to Deactivate button.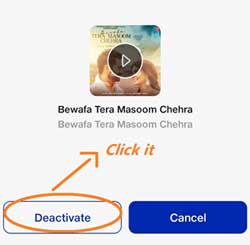 As you click Deactivate option, you get one pop-notification as consent that "Do you still want to Deactivate Jio Tune?. So, you have to click the Yes option to stop it.
After clicking the Yes option, your jio caller tune will be permanently removed and the person who will call you will listen the normal caller tune.
How to use jio phone sim in smartphone?
How to use other sim in Jio Phone?
Stop Jio caller tune using SMS Service
SMS (Short message service) is messaging service in which one person sends messages to another which you know.
You can activate and deactivate many services through the messages such as the services related to bank, finance, Calling or sim services, etc. Just by sending the messages.
Because by the Bank or Telephone operator, Auto reply and programming languages are set by them. It means to say that all are done by the machine language automated.
Follow the given below points to Deactivate caller tune of Jio operator on any phone :-
Firstly, open the Message service application on your mobile which is pre-installed.
Click to + icon or other option whichever allows us to send the message. (There is a different option given to open the "send message" option according to the brand of smartphone.)
Now, you have to send the message on either 56789 or 155223 number. You have to enter this on the "To" option which enables us to type the number where we have to send.
Then Type "Stop" words on the Message section.
Click to Send icon to send the "Stop" messages to the Jio Operator.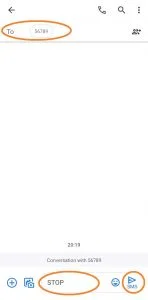 Now, you will get a confirmation message for deactivation on message chat which will ask to reply 1 to Remove Jio Caller tunes.
So, Type 1 and then click to send Button.
Finally, Your Jio caller tunes will be deleted and you will be informed by the Jio through the messages that your Caller tunes subscription has been deactivated.
By following the above process, you would have known well to deactivate jio caller tune using the Message Services. You can follow this method in any type of phone whether it is normal (Keypad) Mobile or Smartphone or Jio Phone.
But you cannot do the My Jio method for deactivating caller tune on your Normal Phone. So, it will be the best method for your normal phones.
How to connect Jio Phone to TV?
Remove caller tune of Jio Sim using the IVR (Call service)?
The full form of IVR is Interactive Voice Response which is mostly used by the telecom operator, Bank, and other big business. If you use mobile then you may have called customer care which goes to the IVR System.
This system works with the help of Hardware and a system which is an automated machine. All the programs or functions are set by the owner of the IVR System.
They have set that the if user press 1 then what voice they will listen. So, by the same process, the Deactivation of Caller tune facility is set by the Jio Telecom operator.
If you want to know to Remove Jio Caller tune using the call service then you can follow the below process :-
Open the dialer of your phone.
Dial 155223 Number and click to Call option to make a call on it.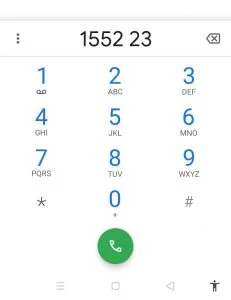 Now, you have to follow the instruction to deactivate caller tune. So, firstly you will be given the option to select the languages.
Then select the option for deactivation of jio caller tune.
So, By following the above method, you would have easily known that how to deactivate the caller tune of Jio Sim using the IVR Cal service. I think it is one of the best methods as compared to the above 2 methods. This method can be applied to any type of mobile.
FAQ on How to Remove Jio Caller tune
Is JioTune free for Jio users?
Yes, Jio Caller Tune is fully free for the Jio Users to set any song or voice according to their choice. You don`t have to buy a subscription package or pay charges for the Caller tune activation.
How many times Jio caller tune can be changed?
If you want to change jio Caller Tunes through the JioSaavn application, then you can change 1 time per month. But if you want to change through the My Jio app then you can change unlimited.
How to listen to own Jio Caller tune on my phone?
Many of them have activated their own Jio Caller tune but they want to listen to that after activating it. So, you can easily able to listen to your caller tune using the MY JIO application on your mobile.
How to connect set top box to laptop?
Conclusion on Deactivating Jio Caller tune
Finally, we hope that you would have known easily to remove jio caller tune from your phone using various method. The methods which are possible to Stop caller tune of jio that all we have mentioned in this article.
Whichever methods, you think easy that you can apply to deactivate. We have tried to explain to you in a better way with the help of step by step and screenshot also.