Are you also logging in yono SBI application for using internet banking of your SBI Bank account? If yes then surely referral code option would be appearing there to fill.
After the username and password. referral code option shows to enter. Due to that only, you are searching SBI Referral code, Right?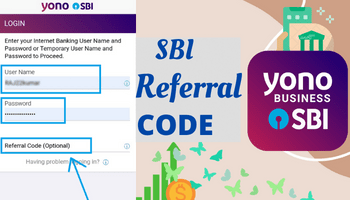 So, if you are finding the referral code for yono SBI then you don`t have to be worry as you have come on the right page to know all right information related to it.
You would know in this page what is referral code in yono SBI?, How you can get Referral code of SBI? How can you use it and all other important information related to it is given.
How to delete phonepe History Transaction?
What is yono sbi referral code?
In most of the application, referral code system is available for refer and money. Like if we know about in banking sector, then there are many application which have referral code system for earning money by referring such as phonepe, paytm etc.
So, you would also be thinking that referral code of SBI Y0NO is also based on refer and earn system. Buyt I would like to tell you that there is no refer and earn system in YONO SBI app.
Also. SBI referal code is not of refer and earn system and you don`t get it from your friend`s yono sbi application.
Here, you have to enter the referral code of an employee of SBI who have guided about you to use internet banking or to login it.
How to earn money online in india for students?
Can you earn money from SBI Referal code?
No, you cannot earn money from referral code of YONO SBI as this facility is not available for customer. It means referral code is not available to customer`s yono sbi application.
The sbi yono referral code is avaialble to the employee of the state bank of india. The employee might be getting some benefit when customer enter their refferal code on yono sbi app.
Actually, we don`t know whether they get any benefit or not and what they benefit get as we are not any employ or from the department of state bank of india.
Best Mobile Number tracker with google maps
Is it necessary to use SBI Referal code?
No, it is not necessary to use a referral code on your YONO SBI application as you can see that there is written optional beside the Referral code.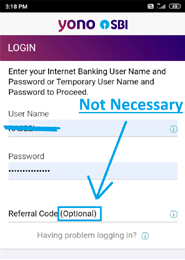 Wherever you see the terms optional in the only or offline form then that means no mandatory to fill without that also, you would be able to go further.
So, if you would not enter the Referral code of State bank of India after entering the username and password then also you would be able to log in to further steps.
How to Find referral code sbi?
Now, you have known that what is referral code on yono sbi app and no any benefits will be received to you by entering referral code while logging in.
But if then also, want to enter the referral code then you will need to contact to your Branch of state bank nearest to you and ask the employee for the referral code.
So, these is the way to get the referral code from the bank only for entering on yono sbi application.
How to see unsent messages on instagram?
How to login using SBI Referral code?
If you have been got the Referral code from your bank to enter in your SBI YONO application then let us know that how you can use that referral code while logging.
Install the yono sbi app from playstore or appstore and open it.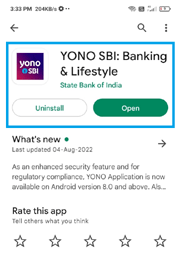 Select your SIM 1 or SIM 2 which is registered in your sbi bank as yono sbi would authenticate by sending message from that number.
Tap to the Proceed option as there shows "You already have an active SBI Internet baning functionality"
Enter username, password and type the referral code which you got by the sbi bank employee.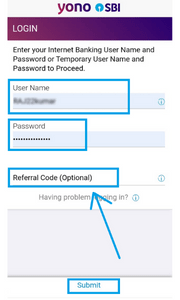 Tap to the submit option and enter the OTP which is sent to your registered mobile number.
After entering OTP, tap to the next and then again tap to next after ticking the consent.
Now, set the 6 digits of MPIN and then finally tap on the Next option.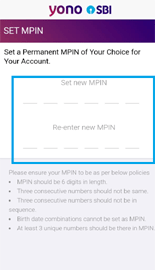 So, in these way, you can login your internet banking on yono app using the sbi referra code. However, you would not get any type of advantages by filling referral code.
FAQ on referral code yono Sbi
Does SBI referal code is refer & earn money?
No, the referral code of Yono SBI is not a referral and earn money system as other applications have. It is just for that the employ have guided you about using the SBI YONO application. So, if you wish then you can enter their referral code on yono sbi.
What is SBI YONO referral code optional?
Beside the Referral code, there is written optional in the bracket. So, it means that is not mandatory to enter and without entering that also, you can login and go to the further step for using YONO SBI Internet banking.
What are SBI YONO Referral code benefits?
The SBI customer does not get any type of benefits by entering the referral code while logging in yono sbi app. Only the employ of State bank of india can get some benefit but we do not belong to that sector, so we can not tell about it.
How can I get Yono referral code in SBI?
By contacting to the nearest SBI branch of your area and asking to any registered employ then if they have the referral code then they can tell you. So, exactly, you can enter that referral code while signing yono app for internet banking.
Conclusion
Finally, you would have got that from where you can get the referral code for your sbi yono application and also knew that the referral code is not necessary to fill.
In this article, you have known many things about the SBI YONO referral code. Also, I would like to clear you that there is no restriction in using yono sbi app, and its all services if you don`t enter the referral code.