Have you purchased a JIO Wifi device to use as a wifi network? if you have bought it, but you don`t know to connect it to your devices then don`t worry.
JioFi is the best hotspot device for the laptop or PC for better speed of internet connection. In this jiofi device,
you can connect to various types of devices such as computer/pc, laptop, Tablet, Smartphone, and other devices which required internet.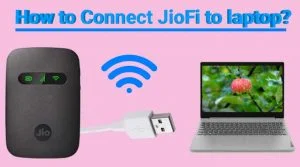 This device comes in various models some jiofi devices allow you to connect up to 10 devices and some up to 31 devices. By the way, 10 devices for connecting is enough for us.
As you are knowing that this jiofi device supports only jio sim. So, before proceeding to the further process make sure to have a Jio sim card.
So, you would know on this article on how to connect jiofi to laptop or pc easily. As well as with these, you would also know about the features & function of this jiofi hotspot device.
How to share internet from jio phone to laptop and mobile?
How to Connect JioFi to laptop or PC ? – 3 Methods
There are three methods through which you can connect your jiofi hotspot device to the computer or laptop devices. They are through the WIFI, USB Tethering, and WPS method.
Therefore, you can use it wirelessly and as well as through the wire cable also. There will not be a difference by connecting through the wifi, USB and WPS.
These all 3 methods will provide the best speed of the internet to your computer or laptop device. If you use it through the wifi or WPS and you have kept it so far away then, of course, you will get a low network.
(If you want to know that how to watch jio TV on laptop and computer then you can check it.)
1. Connect using Wifi?
FAQ on Connection of jiofi to laptop
How to check jiofi balance in laptop?
Follow steps – Visit www.jio.com < Sign in < click on JioFi < Enter your jio number < click to generate OTP. < Select alternate mobile number or Aadhar-linked number. < click on generate OTP button. < Enter OTP < click to submit button. After logged in, you can check data (Internet) usage and expiry date.
Why my laptop is not connecting to JioFi?
1. You should Re-insert the jio sim card in your jioFi Device.
2. Make sure that the JioFi device is turned on and Battery should be charged enough.
3. WIFI should be turned on your laptop and Re-scanned it.
4. Check the indicator light of JioFi icon. If there is a green network then it indicates that full network. In the same way, the Blue network indicates that there is an average signal and the red indicates that poor signal. If there is a red network then you should keep it where there is a good signal.
5. JioFi should be connected to maximum 10 devices at a time and the distance between jioFi and laptop should be maximum of 10 meters for a better network.
How can I increase JioFi speed on my laptop?
1. Visit the http://jiofi.local.html from the browser of your computer. Make sure to connect your device to the jioFi before opening this website.
2. Click to log in and enter the username and password. The default username and password of everyJioFi device is the administrator. After entering, click on the Login button.
3. Click to setting and select the Manual option in the network for APN attach setting.
4. Select IPV4 from the various option of IPV4/IPV6 Mode. (Important setting)
Now, click on to apply button.
How to connect Jio Phone to TV?
How to connect set top box to laptop?
Conclusion
Ultimately, I Expect that you have known well for connecting jioFi to laptop using various methods to use internet.
There will not be any difference in the internet speed between the 3 methods.
As well as this, we have tried to mention all your doubts with the help of Frequently asked question. We have shared the videos about the features and functions of Jio wifi router device.
So, that all the confusion related to the features of JioFi may be removed from your mind. If you have any query related to the JioFi device then you can comment below.