Do your also Wrong name shows in truecaller when anybody receives your call or search in truecaller? If yes then you are at the right place to know that how to change name in truecaller?
Truecaller is used by most of the people basically for knowing the owner name of any number. It provides the owner name of any number when we search that numner on truecaller.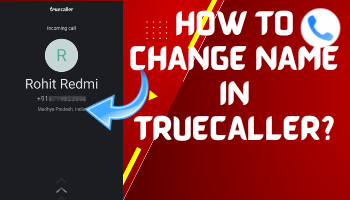 Or if truecaller is installed and incoming calls comes from unknown number then also the owner name appears and we come to know about the person detail who is calling.
But many times happen that truecaller shows wrong name or fake name and the person who is receiving call or searching on truecaller gets wrong information.
Also Know :- How you can call history check of any number?
Can I change my Truecaller ID name?
Yes, you can easily update or change your true caller ID name if showing wrong name on truecaller. Truecaller provides option to change or update name to every user for correcting.
There are various ways to change name on truecaller by which you can correct your name on truecaller.
So, if you are interested in changing your truecaller then you can change by following the procedure which we have mentioned below.
How to change true caller name? – 2 Methods
There are two ways for changing name on truecaller of you name. One way is by editing the profile when you logged in the truecaller and the another way is to set name while logging.
1. How to change name in Truecaller by editing profile?
In this method, you have to make sure that your account has been created on truecaller and logged in. It means if you are using truecaller app at current then you can follow it.
Follow the below procedure for correcting your name on truecaller:-
Open your truecaller application on your smartphone and Tap on the menu bar at top left corner.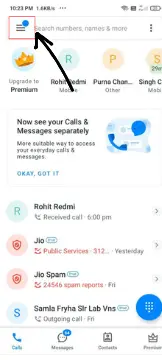 Tap on the edit icon that is beside your truecaller profile detail.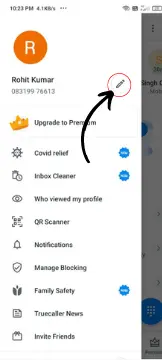 Now, you can edit the First Name and last name whatever name you would like to keep.
After typing the Name, Tap on the Save button.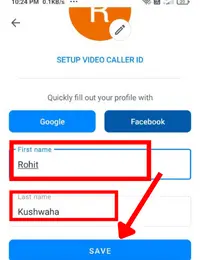 Finally, your name would be updated on truecaller immediately or after a few time. In this, name can be updated by editing the profile in truecaller.
Best free whatsapp online tracker app
2. Update Truecaller ID Name while logging
It is another way is to change name on truecaller while creating account or logging. If truecaller application is installed on your phone then you would need to reinstall it.
After installing truecaller application, open it and then tap on Get started option.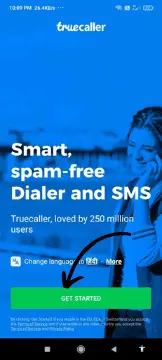 Tap on "Agree & Continue" option.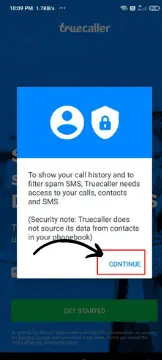 Now, click on Type Name manually option for updating your name on truecaller.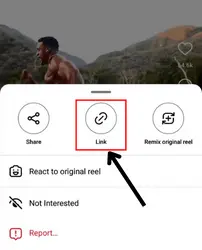 Edit the name which you would like to keep and then tap on the Continue Option.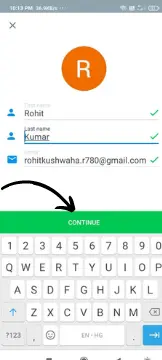 Now, your correct name would be updated on truecaller and would also appear updated name on other`s truecaller account.
Also Know:- How to hide whatsapp chat without archive?
3. By online without app
By the way, there is no gurantee that your name would be updated using this method. But your name may get updated using this method also.
Basically, In this method, you just create a ticket of your issue for updating name to the truecaller support team and then they may change it.
Follow the below procedure to change truecaller name online using website:-
Go to the truecaller.com website and then tap on Help option.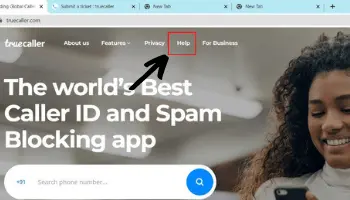 Click on Submit a Ticket option.
Now, you would need to fill the form for updating name on truecaller. Follow the below points to fill form:-

Enter your email on the Requester option.
Type "Change Name of my number" under subject.
Enter the phone number in which you would like to update name.
Type "I want to change my name as Rohit Kushwaha of my number xxxxxxxx13 on trucaller" in the description box.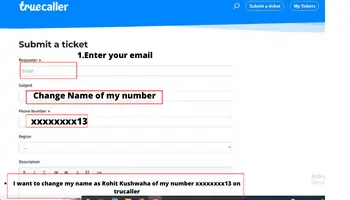 Finally, Tap I`m not a robot and then click on Submit button.
FAQ on Changing Truecaller Name
Why does Truecaller show wrong name?
Truecaller collects a large number data from contact list of a people when they install it. So, the person who has installed truecaller and save your number with wrong name or may be you have given wrong name while creating account for first time.
How to change someone's name on truecaller?
By the way, you cannot change someones name on truecaller directly. The owner of the number will only need to change manually. But you can suggest a better name of that number on truecaller as option given for it.
Can I update fake name of my number on Truecaller?
Many person change their original name to fake name intentionally for making fraud or for other reason. So, if you would like to update fake name on your number on truecaller then you can do it but our recommendation is to keep original name.
Why my Number appear as spam in Truecaller?
The truecaller listed some number in the spam category because many of the people reported that number for spam as spam option given on truecaller. So, many people have marked your number for spam. You can remove it by contacting truecaller team.
How much time it takes to change name on truecaller?
By the way, Name gets updated immediately or within a short time but it may also take upto 24 hours according to the truecaller as they have mentioned it on their website.
Can I Update My Name on my both Number on Truecaller?
Yes, you can keep same name on your both number from one truecaller account only. If you want to update the same name on your secondary phone number then you just need to add second name by visiting to profile edit section.
Can TrueCaller show wrong name?
Yes, Truecaller can show wrong name as we all know because it depends on many factor. If the person has updated wrong name or data from where truecaller collected like from other contacts then obviously truecaller can wrong name.
How to change my name in truecaller in Iphone & Android?
You can easily change your name in truecaller of your number by editing your profile section in truecaller app or while logging. For android & iphone, there is same procedure you would need to follow for updating name in truecaller.
How to Delete my Truecaller Name?
If you would like to delete your truecaller name then you would need to deactivate your truecaller account. For this, go to setting < privacy center and Tap on Deactivate option. After that go to truecaller.com/unlisting/ and enter your number to remove.
Conclusion
Now, you would be easily able to update or change your name on truecaller, so that if anyone search your number or receive your call then you would get right Name.
If you have any query related to updating name in truecaller then you can comment below.