Are you also eager to know about that how to hide chat in instagram? If yes then you are at the right place to know the procedure of hiding your Instagram message conversation.
Most of the Instagram users have their personal or private chats which they want that anybody can`t access that Instagram messages of the conversation.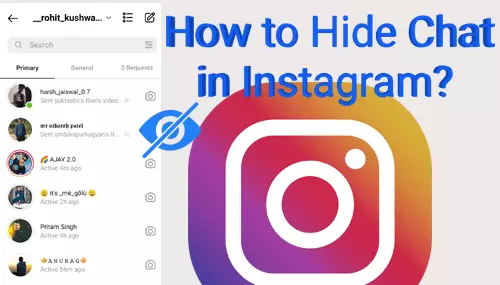 which means users want to hide the Instagram personal chat in a such way that anybody can`t read the conversation of the chats. But users are unable to hide their chats on Instagram because Instagram doesn`t provide any direct options to hide.
So, we have mentioned the tricks for hiding the Instagram chat with the help of step-by-step procedure and screenshots.
Can Instagram messages be hidden?
First of all, the main question arises, Can Instagram messages be hidden? So, the answer is yes, you can easily hide your Instagram chat messages.
As I have mentioned above there is not any features given by Instagram to hide directly. Therefore, hiding Instagram message chat is possible through some awesome techniques.
So, let`s know about its procedure and methods for hiding Instagram chat.
Also Know :- How to turn off read receipt on instagram?
3 Ways To Hide Instagram Chat
There is a total of 3 ways through which you can hide your Instagram conversation completely and 100%. So, they are by enabling the vanish mode, by installing locker Instagram chat app, and by switching the instagram account to professional.
So, the 3 methods are mentioned below and their procedures are given below step by step below. Therefore, let`s know about it.
Also Know :- How to see private instagram account posts?
Using locker for insta app
The Locker for insta social is a third-party application that enables locking the individual or particular Instagram chat directly. By the way, your Instagram chat will not hide through this method.'
But you want to secure your Instagram chat that anyone can`t see your Instagram chat. So, you can do that by enabling passwords on the particular chat of Instagram by dowing which anyone will not be able to read the Instagram chat conversation.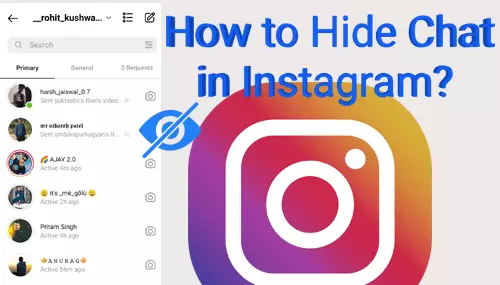 So, let`s know to hide chat in Instagram as by locking using the locker for insta social application:-
1. Install Locker for insta social app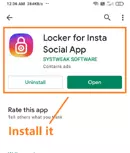 Download and install the "locker for insta social" from the playstore on your android phone.
2. Create 4 digit Passcode.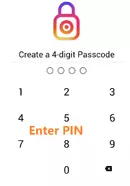 Open that app and enter the 4 digit password which is for the Instagram chat. It means that whenever you will lock or unlock Instagram chat then it will need.
3. Enter email & Enable accessibility permission.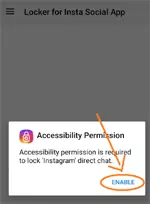 Enter the recovery email which may be needed if you forgot the password. As you enter the email then it will ask to enable the accessibility services to this app. So, tap to enable and turn on the services as it redirects in your phone setting.
4. Click + icon.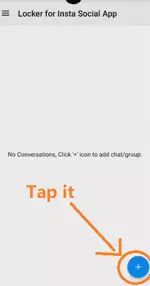 Now, Tap the + icon as you can see in the below screenshot.
5. Select Instagram chat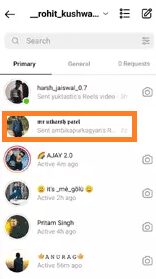 Now, you will be redirected to directly Instagram official app. So, go to the message and tap the particular chat which you want to lock.
As you tap then the password will be enabled successfully to that particular Instagram chat and whenever you will open that chat then it will require a password to view the message or to chat.
Open the locker for insta social app on your phone.
Tap the lock icon of the chat which you want to unlock.
Also Know :- How to share full reels on instagram story?
Using Vanish mode
If you don`t know about the latest features of vanish mode on Instagram then let me tell in brief. Vanish mode is the feature that is used while chatting with anyone.
When a person turned on the vanish mode then the vanish mode is turned on on both sides (account) of the chats. It means that If the vanish mode features will be turned on from one user then that will also get activated on the other person to whom you`re chatting.
Basically, Vanish mode is like incognito mode as a private chat. So, whatever chat will be done from both sides after activating vanish mode will not be saved and the messages will be cleared as the user closes the chat within a minute from both sides.
By the way, vanish mode features is not to hide your Instagram chat but whenever you turn on the vanish mode in your Instagram chat then your previous chats hid and you can unhide whenever you want.
So, let`s know the technique step by step to hide your chat on Instagram by activating vanish mode:-
Open your Instagram application on your android or iPhone.
Open the chats which you want to hide on your Instagram.
Swipe up in the chat to turn on the vanish mode for hiding the chat on your Instagram.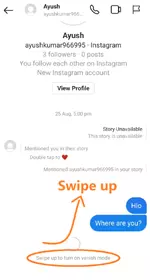 Now, the previous message will be deleted.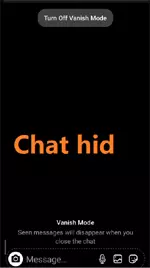 By following the above procedure, you can easily hide your Instagram WhatsApp chat. But if you are unable to hide your chat by the above procedure then there is also another way. So, let`s know about that methods.
Also Know :- How to send gift message on instagram?
Using business account
Whenever Instagram users create an account for the first time then that account is in a personal account. But Instagram provides a business or professional account also for business or anyone can have it.
So, the professional or business account provides some of the extra features as compared to the normal personal account.
By the way, a business account doesn`t provide features to hide a chat but using some other features,
Basically, Being a personal or normal account on Instagram, we have only a primary section in the messages in which all the messages come and chats are displayed.
But When you switch your Instagram account to a business or professional account then you get the features of Primary and general in the message section.
In the primary section, the messages come daily whereas the new messages come from an unknown person in the general section.
So, firstly you have to convert your account to business and then you have to move the particular chat to the general category and then again you have to switch accounts to a personal accounts.
By doing this procedure, you can easily able to hide instagram chats. So, let`s know about its procedure step by step.
Follow the below procedure for hiding instagram chat using business account techniques:-
Open your instagram account and tap to your profile.
Tap on the three menu line at the top right corner.
Click on the setting options.
Go to the account options.
Scroll below and tap the Switch account type options.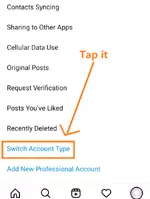 Tap on the business account options and again tap on the switch button for confirmation.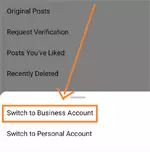 Open your message and select the chat which you want to hide.
Click on to "Move to General" options.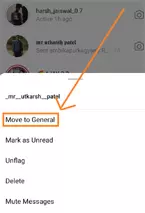 Now, the chat will be moved to the General section.
Now, Turn the account to a Normal personal account from a business account, then the general options will disappear and your particular chat will be hidden.
Whenever you need to unhide the Instagram chat then again switch to a business account and move chat from general to primary.
Also Know :- How to delete call history in instagram?
FAQ on Instagram Chat Hide
Can we archive chat on Instagram?
So, Archive feature is not given in Instagram as a WhatsApp but by following some of the techniques, you can easily hide your chats on Instagram that you want to do through the archive.
Can you hide a conversation on Instagram?
Yes, you can easily hide your instagram chat conversation by following any 3 techniques which we have mentioned but not directly. By switching on the vanish mode, switching to a professional account and by installing – locker for insta social app
How do you see hidden chats on Instagram?
If Instagram chat is hidden using locker for insta social app then you will be required password when you open chat. Or if hidden by moving to general and switching to normal account then switch to a business account and see the chat on general.
Conclusion
I hope that you would have known very well through the help of this article the process to hide your personal chat on Instagram
All the procedures are mentioned step by step with the help of screenshots and as well as frequently asked questions are also provided by us which are related to the hiding & locking chat of Instagram.
If you are facing any problem related to the Instagram chat then you can comment below and we will reply to your question by giving the solutions.