Are you also interested to know about that how to hide subscribers on youtube? if yes, then you are at the right place to get detailed information about it.
Are you also having a youtube channel with less audience? If yes, then it would be good for gaining more subscribers by hiding a less subscriber count of your youtube channel.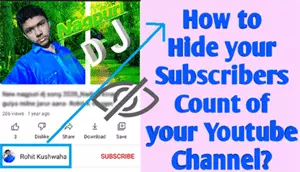 By the way, You might have seen lots of youtube channel, that whose subscribers count are invisible. Do you have ever thought that why YouTubers hide their subscriber count?
As you may be knowing it very well, we will discuss it later in this article. So, If you have to hide your subscriber count from your audience then you don`t have to worry about it,
How to download youtube videos in gallery?
Is it possible to hide subscriber count of your youtube channel?
Firstly, the question arises in the mind of the beginner who has started a new youtube channel. So, Yes subscriber count of any type of youtube channel can be hidden or invisible from the public.
There are no criteria for changing the youtube subscription setting for making the invisible subscriber status of a youtube channel. This procedure can be done with any device whether it is mobile or pc.
How to hide chat in whatsapp with lock?
How to hide chat in instagram with lock?
How to hide subscribers on youtube from PC?
Follow the below procedure for hiding the subscriber count in youtube from your laptop or computer system:-
open your youtube channel account or youtube.com by logging into your account.
Click on your youtube channel logo or account.
Click on the youtube studio option as you know that the youtube channel setting is controlled from the youtube studio.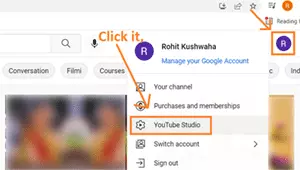 Now, go to the setting option.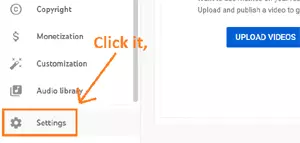 Here, many options appear such as general, channel, upload default, permission, community, and agreement. But you have to click on the 'channel' option.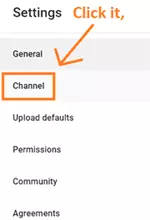 Now, you will get 3 options which are basic setting, advanced setting, Feature eligibility. So, you have to click to the over 'advanced setting'.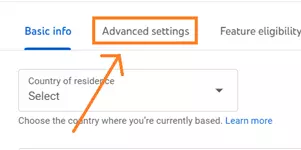 Finally, Scroll down and you will get the option of Subscriber count. By the way, the already option would be enabled by ticking beside the – display the number of people subscribed to my channel.
So, you have to untick the option to hide the subscriber number of your youtube channel.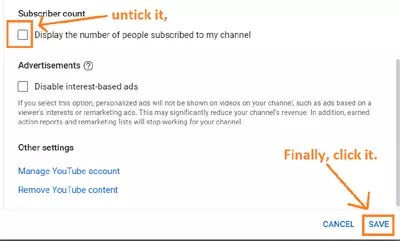 Lastly, after selecting the option, make sure to click on the Save button to save your changes.
By the above procedure, You will be able to hide your youtube channel easily and your number of subscribers which was appearing that will be invisible within half an hour.
How to download youtube shorts in gallery?
How to Hide chat in whatsapp without archive?
How you can hide subscribers on youtube using mobile?
As you know that you use the youtube studio application to manage your youtube channel from mobile for various purposes. But if you are thinking that is it possible to hide subscribers from the youtube studio app?
Then, I would like to make clear to you that there is not an option available in the youtube studio mobile application for hiding or invisibling subscriber count.
But this doesn`t mean that you cannot hide your subscriber of youtube channel through your smartphone. You can easily do this with your any mobile whether it is android or iPhone through the browser of your mobile.
Follow the below procedure to hide subscribers on youtube using mobile:-
open the chrome browser on your mobile.
Visit youtube.com and log in to your account of the youtube channel of which you want to hide subscribers.
Tap on three dots of your chrome browser as you can see in the below screenshot.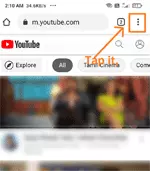 Now, Tap on the desktop site option. With this option, the youtube website will appear as it appears on the laptop or computer.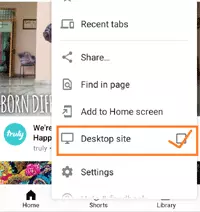 How to unblock myself on whatsapp?
Why and When you should hide your subscriber count of youtube channel?
When you have less number of subscribers to your youtube channel then you should hide your subscriber count. You would have also seen to most of the YouTubers that they hide their subscriber.
The most common reason behind this is that they have less audience.
Let me explain it, When any youtube channel is new then obviously there would be fewer subscribers, So, if other people watch your videos then most of them don`t subscribe by looking at fewer audiences.
As you would have experienced, you can think yourself that you also most of the time don`t subscribe to the small youtube channel if the content is valuable and great then also, right?
In the same way, If the audience sees that the particular youtube channel has a large audience or subscribers then they subscribe and your views increased
because it is the mindset of people that if there are more followers then this youtube channel would be providing valuable and good content. Actually, as you know it is not fixed then also.
I hope that you would have understood this concept of hiding subscribers.
How to turn off age restriction on youtube?
What are the disadvantages if you hide your subscriber count?
There may be many disadvantages you may get if the views are more but the subscriber is invisible. Following the cons. of hiding the subscriber status of your youtube channel if views are more:-
You don`t get sponsorship because the brand that approaches them also sees the number of subscribers.
If there are more subscribers then also if you have hidden your subscriber count, then your subscriber will not increase fastly as they will be not aware that you have a large audience.
How to unhide or show Subscriber count on your youtube channel?
After hiding your subscriber count, you must unhide or visible your subscriber count as the subscriber increases. I have already told you that it may impact the growth of your youtube channel.
By the way, the procedure for unhiding/showing is the same as you have followed for hiding the subscriber. Just you need to tick the subscriber count option.
Let me tell step by step in short for showing the subscriber count on the youtube channel:-
open youtube studio and go to the setting option.
Go to the channel and then click on the Advanced setting option.
Scroll and tick the subscriber count option and lastly, make sure to click on the save button.
How to fix –There was a problem with the network 400 on youtube?
FAQ on Hiding subscribers on youtube
Can we see hidden subscribers of any youtube channel?
No, anyone cannot see the hidden or invisible subscriber of any youtube channel through any method unless and until the subscriber is unhidden.
Can we do hide and unhide subscriber count at any time?
Yes, you can show or disappear the subscriber count of your youtube channel at any time. There is no limit for enabling and disabling subscriber count for your youtube channel.
How Can I hide subscribers on YouTube Studio app?
Already, been told about it that there is no option available for enabling and disabling your subscriber count for your youtube channel through the youtube studio app or any app.
If I hide my subscribers on my YouTube channel, will it affect monetization?
No, there would not be any issue related to monetization if your subscriber count has been hidden as this option is provided by youtube only.
Conclusion
I hope that you would have understood very well to hide subscribers on youtube by using mobile and PC. We have tried to provide all important information related to the subscriber count.
Now, you can keep continuing for uploading videos to your youtube channel by hiding your subscriber as your subscriber increases then make sure to unhide them.
Whatever procedures are mentioned can be done through any device such as a windows laptop, MacBook, etc., and in smartphones all android and iPhones.
If you have any doubts or queries related to the subscriber count on youtube then feel free to ask in the comment.