Do you also want to change your existing number from jio operator to the airtel operator sim? If yes then you are at the right place to know how to port jio to airtel?
Many of the Jio SIM customers want to port their jio sim number to airtel due to most of the reasons. There could be many reasons for why they want to convert their Jio number to an airtel number such as –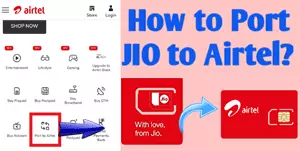 they might be experiencing the slow internet connection of Jio Sim in their operator, etc. reason can be there. So, they want to use an airtel sim which may have a high internet connection in their area instead of the Jio sim.
How to get airtel call history?
What is MNP Service for porting to Airtel from Jio?
As we discussed that there are many reasons why customers want to use the other operator of Number.
As you are knowing that if a customer is using an existing number of ji0 sim then when the customer will switch to another operator then obviously the person would want to switch with the same number, right?
But previously, there was the main issue of changing the operator was that the customers need to purchase the new sim card of that operator in which the customers get a new number.
But as you are knowing that each individual person`s mobile number is very important if once that number spreads then it creates a problem to use other number.
So, there were the problems of not maintaining the same existing number while switching to another sim card operator. Therefore, TRAI has launched MNP (mobile number portability) to solve this problem.
MNP is a facility that is available to almost every telecom operator which enables customers to change their sim card operator to the other operator without changing the existing mobile number in which customers' mobile number doesn`t change.
What does No Service Validity Means?
What are the eligibility to port from jio to airtel?
Below are the points which are the criteria for the eligibility of switching jio to airtel:-
Your existing jio number which you are using currently that must not be less than 90 days. It means your jio number should be older at least 90 days from the activation date.
If you are a postpaid jio sim user then you must aware that your all previous bill would have been and everything is clearly related to the bill.
You must also be aware that if you had purchased any subscription or loan from your existing jio number then that must be cleared and paid.
You must have the same document which you used while the activation of the jio sim such as your driving license, aadhar card, pan card, etc.
These are the following criterion point for the eligibilities to get ported from jio number to airtel as well as for all the operators. If the above criteria are fulfilled then you can proceed to the next procedure.
How to set caller tune in airtel?
How to Port Jio to airtel using 3 methods?
There are many methods for switching operators from Jio to airtel which are mentioned below. So, you can use anyone method from the below given whichever you wish to use.
The 3 ways are mentioned that is through the using airtel official website, using the offline method with the help of SMS, and using the Digi10 website online. So, let`s know.
Using airtel portal
Follow the below procedure to port to airtel from jio sim :-
Visit to the official website of airtel which is airtel.in from any browser through your mobile or desktop.
Scroll below on the homepage and then tap on the Port to airtel option as you can see in the below screenshot.
Now, you will need to select the recharge plan for your ported Airtel SIM Number which is mandatory. Only two plan will be available which is of Rs.499 and Rs.999. So, you will need to select according to your need.
Then, Tap to the BUY Now options for the next procedure.
In the next page, fill the some of the information such as your Name, Mobile number of jio which you want to port to airtel, And address details where you want to get delivered ported airtel sim such as City name, Address line, House number, and PIN Code of that area.
After filling in the details, then you have to tap to the continue options.
Now, your request for porting your jio number to Airtel will be requested successfully.
Lastly, The airtel executive will visit to your given address within a day or few days depending on your area and the airtel executive will verify everything and will deliver to you your ported airtel number with activation.
As the executive comes then the executive will ask you for the UPC (unique porting code)) Code which you will get just by sending the message at 1900 from your existing jio number – PORT (space) xxxxxxxx56 (Your Mobile Number). For detailed guide to get the UPC Code, you can refer to the below offline method in which a details guide are given to obtain UPC Code.
By following the above process, you can port your jio sim to airtel sim by justing sitting at home without going to any shop with the help of a delivery system.
How to activate jio plan after recharge?
Using SMS & Shop
If you want to switch to airtel from jio by visiting to the nearby airtel office or any shop in which airtel sim related works done then you can follow this method.
It has two stages in one you have to get the UPC Code through sms and then you will need to visit to the nearby airtel office for porting and activation. Let`s know below.
Follow the below procedure to know that how to port to airtel from JIO:-
Get the UPC Code by sending message. Follow the below points:-

Send message at 1900 from your exsiting jio number as given in bold text – PORT xxxxxxx86 (Port Space Mobile Number)
For example; if your mobile number is 1234567890 then you will need to send PORT 1234567890 to the 1900 Number.
Now, you will receive the UPC Code on your message from your existing jio mobile number.

The UPC Code which you will received on your SMS that will be only valid for the 4 days (except for some regions).
So, you have to be visit to the nearby airtel office within the valid of UPC Code and tell them that you want to port from jio to airtel.
Now, submit the mandatory document for the mobile number porting to them and also show or give UPC Code as they will ask you.
After that, they will do the verification process online and they will provide your new ported Airtel sim card instantly.
How to get jio fiber connection?
Using the 10digi online
10digi is a website which provides many services of all telecom operator at doorstep as home delivery such as New sim card, ported sim card, boradband connection etc.
facility are available but only at some of the particular cities like Delhi, Mumbai, Bangalore, Lucknow, etc. cities which you can see by visiting the website.
So, with the help of this website also, you can request for the porting from jio sim to airtel sim through the 10digi website and the executive will visit to your doorstep and will provide you the airtel ported sim card with your existing number.
Follow the below procedure to know how to port from jio to airtel:-
Visit the 10digi.com website and click on the PORT NUMBER options.
Select the Airtel operator because you want to port in the airtel operator from jio operator.
Scroll below and select the recharge plan for the ported airtel number and finally click to the buy now options after choosing the recharge plan.
 Now, Fill in the name, email, Mobile number, and address detail of delivery, select the delivery time slot at what date and time you want to receive your ported sim, and select the payment method.
Then, click on the continue option.
Now, you will need to enter the UPC (Unique porting code) code and porting code generated date which you can get by sending a message or by following the above method`s procedure.
Finally, click on the submit button and then the ported sim will be delivered to your given address within a day or a few hours depending upon your city.
Conclusion on porting from Jio sim to Airtel Number
I hope that you would have understood to port jio to airtel using the different methods. We have tried to explain and give the step by step procedure as simple as, so you may get better understanding.
If you are facing any problem with the jio sim card operator then you must port to other operators to solve the problem.