Do you want to know that how to activate call waiting? If yes then you will be given step by step procedure for enabling this feature on your phone.
Call waiting feature is given in every type of mobile whether you use android or keyboard or another smartphone. If you go through the call setting on your phone then this option appears to the user.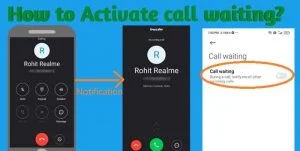 But most of them don`t know that what is call waiting? How to enable this call waiting feature and deactivate it? And a lot of confusion occurs about call waiting option to them.
So, we have discussed everything about the call waiting feature in this article with the help of step-by-step procedure and screenshots. Therefore, let`s know below.
How to unblock yourself on whatsapp if somebody has blocked you?
What is call waiting features in every phone?
The Call waiting feature is provided by all the telecom operators such as Jio, Idea, Airtel, BSNL, Vodafone, etc. This feature allows you to notify the other call which is coming to your number at the time when you talking to the other person.
It means during your existing call when other people call to you then your mobile gets slowly beep. As well as this, the contact number also appears of that next person.
It has a connection from your calling services means from your Sim card. But earlier, you might be thinking that it has a connection from a phone setting.
I would like to tell you that call waiting is already activated in almost every operator of SIM Card. But if by chance the feature has got deactivated then you can activate call waiting.
There are many benefits of these features which you get. You can easily attend your important call at that time by keeping your existing call on hold.
Or you can do a conference also by attending the call of the next person and the existing call as you get suitable or needed.
How to enable call waiting option using 3 methods?
There are total 3 ways through which you set call waiting option on your any Number. They are through the USSD Code, Phone setting and customer care number.
So, we have mentioned 3 methods below but just you need to follow only one method. We will firstly tell you through the easiest method which is using the USSD Code then other methods.
The procedure of each method is mentioned below step by step with the help of a screenshot. So, let`s know one by one.
How to get Jio Fiber connection?
Activate call waiting using USSD Code
To activate call waiting through the USSD Code is a very easy process. In this process, just you need to dial the code on your phone dialer then the feature gets activated.
By the way, the call waiting feature is available for enabling and disabling on all smartphones and keypad phones. But as you know that user interface of the phone settings and options is different according to the model of the phone.
Therefore, using the USSD code for turning on waiting calls is the best method for every type of phone and is the fastest way. So, let`s know that how to set a call waiting through the USSD Code.
Follow the below points for enabling Call waiting on any phone through Dial code:-
open your phone dialer and dial *43# (This code will be applicable to all the operators of the SIM Card)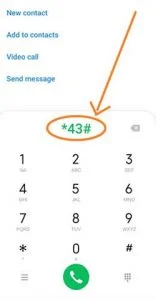 As you dial the process will be going on and will appear as MMI Code Running.
Lastly, your call-waiting option will be activated on your mobile and will appear as "Call waiting service was enabled".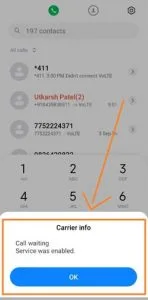 How to unblock yourself on whatsapp?
How to use Jio Phone sim in smartphone?
Using phone setting
By the way, already one method for enabling it is mentioned above. But if you want to turn it on through the phone setting then you can follow this procedure also.
As you know the phone setting user interface and option are different according to the smartphone but the feature gives under the phone setting in every phone.
By the way, Below we have mentioned the procedure of MI Phone setting. So, if you have other brands of mobile then you can adjust the interface and procedure for getting call waiting features.
But the call waiting option will be available under the call setting on almost every phone. So, let`s know about its procedure.
Follow the given below procedure to set call waiting using call setting:-
open the phone setting and tap the apps.
Tap on the System app settings.
Click on the Call setting. (In every phone, you have to reach the call setting option then in the further step, the call waiting option will appear.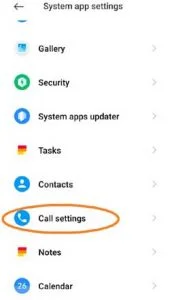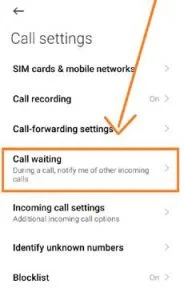 Now, Turn on the call waiting option on your smartphone.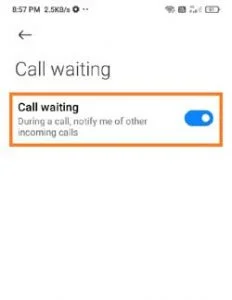 By following the above procedure also, you can enable call waiting option on your smartphone through the help of call setting.
Other than these two above methods, there are also other ways for turning it through the customer call. So, let`s know than procedure also below.
Through customer care
The last way to activate call waiting is by calling customer care. If you call the customer care of your operator of sim card then they will activate you.
You just need to tell the officer of customer call that to enable the call waiting option on your phone then they will turn it on. So, as you know that each operator has their own customer care number.
Below customer care numbers are mentioned for enabling call waiting for options of each famous telecom operator which are in India.
Jio Customer care Number – 1860-893-3333
VI (Idea and Vodafone) Customer care number – 199
Airtel customer care number – 121
BSNL Customer care number – 1800-180-1503
You can call the customer care number of your operator of SIM Card by looking from the above list and ask them to activate call waiting on your number.
How to connect set top box to laptop?
How to deactivate call waiting?
If you don`t want enabled call waiting then you can disable call waiting on your phone. So, there are 3 methods to deactivate the call waiting option on your number.
They are through the USSD Code, call setting, and Customer care for deactivation of call setting. So, let's know it.
METHOD – 1 USSD Code:- Just you have to open the dialer of your phone and then dial to the #43# USSD Code. After dialing the call waiting service will be deactivated and you will be confirmed by appearing that call waiting service was disabled.
METHOD -2 Call Setting:- You have to find call setting under the phone setting then find the call waiting option. So, the call waiting service will be pre-activated. Therefore, toggle the call waiting option for disabling it.
METHOD -3 Customer Care:- As we have told above for turning on call waiting option through the customer care. In the same way, you can deactivate it. So, just you have to call your telecom operator`s customer number and asked them to disable it.
FAQ on Call waiting Activation
How to check that call waiting service is activated or deactivated?
You can check USSD Code in which you have to dial *#45# then the status will appear.
If the service will be activated then it will appear as – Call waiting service has been enabled And if deactivated then Call waiting service has been disabled.
What happens if Call waiting is off?
If the call waiting option is deactivated on your number then you will not be notified of any other person calling you during your existing call. It means that during your existing call, your phone will not beep and will not appear Contact number of the next person who will call you.
Do we need to pay a charge for enabling call waiting?
No, you don`t have to pay any money or charge for activating the call waiting option. The option or feature is free of cost and anytime you can activate and deactivate call waiting service.
How to install software in mobile?
How to connect jio phone to tv?
Conclusion
I hope that you would have known well that activating call waiting on your airtel, Jio, Vodafone, Idea, BSNL Number? We have mentioned step by step procedure with the help of a screenshot in the activation and deactivation process of Call waiting.