Are you also want to wake someone if someone is sleeping with the help of your phone? If yes then you are at the right place for knowing that how to wake someone up over the phone?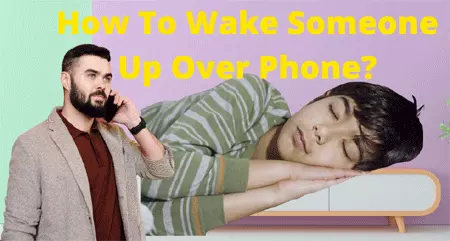 Actually, Sometimes most of them don`t wake, they just continue to sleep even when the times coms for awake. Also, when we call them then also many times they don`t receive a call or their mobile is in silent mode.
How to get someone to wake up over the phone using 4 ways
There are many applications available that allows you to share alarm from your phone to their phone by which they can easily awake through the phone.
As well as, sharing alarm application, there are also other ways that are discussed below to wake someone up over the phone.  We will knwo in this article through the following ways:-
Using galarm app for sharing alarm
Using Texte app – Emergency SMS
Using find my phone
By calling
1. Using galaram application
Galaram app is one of the best alarm which provides many features and provides on its application. This application available for both android and iphone on the playstore and appstore from where you can install it in your phone.
As you know that the normal alarm is pre-installed on our smartphone but by that, only alarm can be set for 'myself'. But by the help of this Galaram app, you can set for someone or a group and myself also.
If you want anyone to wake up through the phone at a particular time then you can easily do through the help of this application. Its very simple to use this application on your smartphone.
Let`s know how you can use this application in your smartphone with the step-by-step procedure for waking anyone over the phone:-
Install galarm application from playstore or appstore according to your device.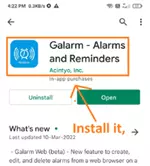 Open galarm app completing by giving all the permission that it ask.
Tap the + icon for creating an alarm for someone.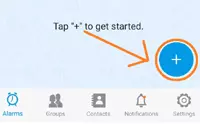 Then, Tap on the 'New alarm' option as it appears on the below screenshot.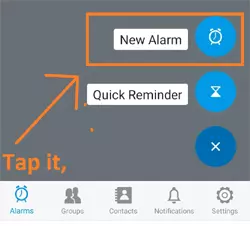 Tap on the 'someone else' option for creating alarm to your freinds or anyone for sharing it.
Tap on to invite manually option. Now, you have to enter the name and number of the receipt with whom you want to share the alarm.
Now, the link will be sent to that number then let the galarm be downloaded on that person`s mobile.
Once that person installed and open galam app, then contact will appear to your mobile. So, tap to the contact after tapping to the someone else option of creating alarm.
Now, set the date and time, Title, alarm ringtone sound, select the recipient contact, etc.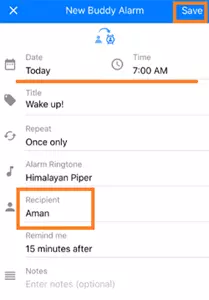 As you tap the save button and make sure that galarm app is installed to your friend`s mobile then the alaram will ring at a particular time.
How to get call details of number?
Best whatsapp online notification
How to hide whatsapp contact without archive?
2. Wake someone up over text on phone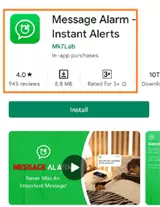 There are many application available for your smartphone that allows you to send message to any phone and then the phone will start ringing the alarm.
SMS Alarm, Message Alarm – Instant Alerts, etc. application allows you to ring the phone as you want but there is a condition. These app doesn`t perform as a galarm app.
SMS Alarm or Whatsapp alarm app should be installed on that person`s phone to whom you want awake and many important settings needed on that phone.
Emergency contact would be asked on that application on that mobile, so if your number is entered then you will wake up to that person over phone at anytime.
How to delete call history in instagram?
3. By calling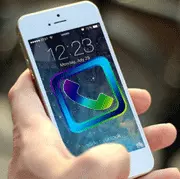 By the way, this method is common by calling to awake as all of us know. Then also i would like to tell you some extra tips through which you can wake someone up over the phone if the phone isn`t mode silent.
If you call that particular person and after talking again he sleeps. Then in this situation, you can continue calling him/her for few time and hang up your phone before answering.
Also if they receive your call then you can wake them by singing a shiny song or jokes which force them to wake. There could be many ways you can follow to wake anyone over the phone.
4. Using find my phone
If you have access to the email and password of your someone`s android phone then you can also wake up to that person through the phone.
Actually. I would like to tell you that find my phone is almost available and activated on every android phone and accessing it requires an email and a password.
So, just installed find my phone or visit the phone and then log in by entering the details of your email and password. Tap the Ring option to ring that mobile.
If you tap once then the phone will start ringing for 5 minutes. That person will not be able to stop it easily snd unless he doesn`t long-press the power button.
FAQ on How to get someone to wake up over the phone
Can you send an alarm to someone's phone?
Yes, you can easily send an alarm to someone`s phone but it will require the permission from that phone owner. It means if you have not done any setup on that mobile to whom you want to awake then you can`t do it.
Can you send a loud alert to someone's Iphone?
Yes, you can send a loud alert to someone`s iphone or android phone. You just need to install the application of alarm such as SMS Alarm, Message alarm, Airhorn, Remote etc. application.
How do I set someone else`s alarm on my iPhone?
By using the galarm application, you can set someone elses alarm on your iPhone or android smartphone. But it is also necessary to be install this application on that persons phone to whom you want to send an alarm.
How do you send emergency text on iPhone?
You can send an emergency text on iPhone or android phone if you belong to the united state country by sending 911 text to message to 911 directly as a voice call from your cellphone.
Conclusion on How to wake someone up over the phone'
I hope that you would have known well how you can wake someone up over the phone in various ways. Now, you can go and follow the mentioned procedure with the help of your friend`s phone.
If in the future whenever you want to wake up then you can just wake up over the phone without calling even when the phone is in silent mode.
The process which really works is shared in this article and we have tried our best to make you explain about sending alarms to other smartphones using various ways.
If you have any query related to waking anyone up over the phone then feel free to comment and ask us.