Has Safe mode enabled on your Redmi phone automatically? Do you want to know that how to remove safe mode in mi phone? If yes then you are at the right place.
Mostly safe mode is activated on our Smartphone by our some of the mistakes which we don`t know. So, we think that safe mode has turned on automatically But it is not like that.
It is done by the mistakes of our fingers when we switched on our smartphones. So, that the Safe mode activates on our android smartphone.
If you are not knowing that what is the safe mode in android phones? how to remove and activate safe mode?, What are the pros & cons of safe mode?, When should you use this safety mode?, then you would know in this article about it.
By the way, we have mentioned the process to turn off/on Safe mode for the MI Xiaomi Redmi Phone. But you can apply the procedure on the other brand of android smartphones because it may work on it.
The process we have mentioned for removing safe mode in redmi and for deactivating that is for all the MI Phone such as –
MI Note 5 pro
MI note 6 pro
MI A2, MI a3,
MI 6a, MI 5a,
MI Note 4,
MI 6a,
Redmin note 7 pro,
Redmi note 6 pro,
Redmi note 4,
Redmi y2,
Redmi note 9,
Redmin note 8,
Redmin note 6 pro,
Redmi note 4,
Redmi note 8,
Redmi note 9 pro,
Redmi 8a dual,
Redmin 5a,
mi a 1,
redmi 6a, etc.
How to Remove Safe mode in mi phone? 2 ways
There are two ways through which you can exit safe mode on any mi phone. Our recommendation is to follow the first method using the Reboot process.
The second method is through the Factory reset on mi phone. So, let`s know that how to exit safe mode on Xiaomi phone.
By Rebooting
If you follow this method to remove safe mode then every data of your phone will be safe. As being Turned on safe mode, external applications are disabled.
So, that external application will be visible and you can use that app after following this method.
Follow the given below steps to know that how to disable safe mode in MI Redmi:-
1. Press power key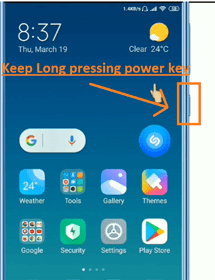 Keep long pressing the power button for 3-4 seconds of MI Phone until the 4 options appear.
2. Tap to Reboot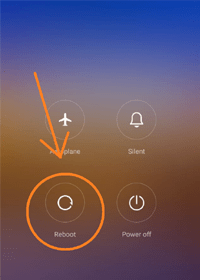 4 options will appear which are Aeroplane, Silent, Reboot, and Power off. So, Tap to the Reboot option.
Now, your MI phone will be switched off and Switch on Automatically and then Safe mode will be removed permanently.
These are the following steps through which you have known well that how to how to close safe mode in mi all mode of phone?
(Know that How to reset MI phone Password? If you have forgotten pattern, password of your mi xiaomio phone or if there is hang problem)
Using Factory reset on Xiaomi
If you follow this method then all your data will be deleted from your phone. So, just we are telling you that through this method also, safe mode can be removed.
By the way, if you don`t have any problem after the factory resetting the phone then you can follow it.
Note: Before proceeding for a factory reset, make sure that you know the email and password of your phone. And if you don't know then you can remove google account on your mi phone.
Follow the given below procedure for MI Safe mode off :-
Open the setting of your mi phone.
Tap on about phone setting of your redmi phone.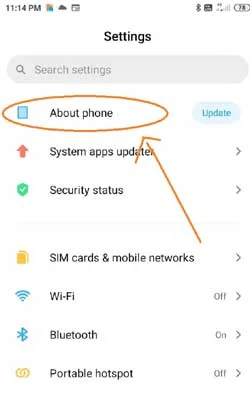 Scroll below and tap on the Backup & Reset option.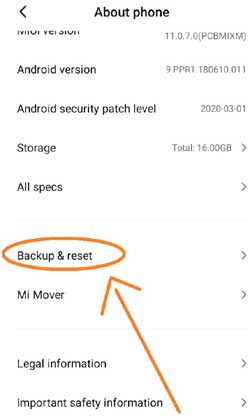 Again scroll below and then click on the Erase all data (Factory reset) options.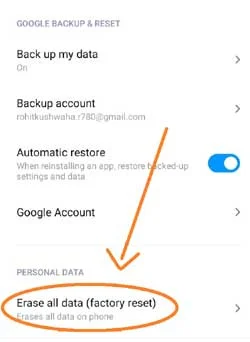 Tap on the Reset phone option.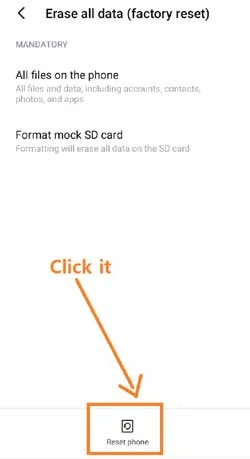 As you click it, then click to the Next step after 8 seconds as you see the warning attention.
Also Know :- How to reset vivo phone?
How to Turn on safe mode in MI Xiaomi Redmi phone?
By the way, you can enable safe mode on mi redmi phone by looking at the above videos but if you want to read then we have mentioned the procedure step by step.
Follow the below-given steps to Enable Safe mode on mi phone:-
Firstly, you have to power off the device by pressing the power button and then tapping the power option.
When the phone switched off completely then again Switch on it by pressing the power button.
As you see the logo of your mobile & model then keep pressing the volume down button until you see the home screen of a phone.
Now, the Safe mode will appear on the left bottom side. So, it indicates that safe mode has activated on your Redmi phone. If you want to find problems apps by rebooting to safe mode then you can check it.
What is Safe mode in Android mobile?
You can guess a little bit from the name of "Safe Mode" about its work. The safe mode features are given in almost every android smartphone.
When Safe mode features turned on then it does not allow you to run any external application which you have installed from playstore or other platforms.
Even the external application is not visible on the home screen. Every external software is deactivated until you don`t Switch off safe mode on your mobile.
This feature keeps safe your mobile by avoiding any misuse of data from your android phone. Because the misuse of your mobile is done through the external harmful application.
How to unlock jio phone for other sim?
When Safe Mode is used on phone?
Sometimes your mobile used to hangs, crash the operating system or external software, or external application creates problem while uninstalling.
Or if someone has access to your android phone and accessing the data of your mobile. Or due to the adverse application, malware and viruses entered into your phone. Then in such conditions, safe mode is mostly used to avoid it and repair by removing the application.
Therefore. by applying the safe mode on phone, the users can fix their problem such as by uninstalling the external application which was creating a problem in uninstalling the particular app.
There are many advantages and disadvantages of using safe mode on your mobile which we have explained in the below section. Now, you would have known that what is safe mode on phone.
(If you want to know that How to install software in mobile then you can check it)
What are the advantages and disadvantages of using Safe mode on mobile?
After reading the above section, you would have known that what is safe mode in mobile. Since there are many advantages you get by using but only one disadvantage of this features is there which is most important for every user.
Advantages of activating safe mode
The mobils run faster without hang problem.
Battery backup increases due to disable of external application.
If some particular application is creating a problem in uninstalling then it can be uninstalled after turning the safe mode on.
You can permanently delete the virus from internal storage after activating it.
Disadvantages of using safe mode
The smartphone becomes new like as it was when you purchase it due to the fresh operating system. You cannot install any external application such as Whatsapp, Facebook application, etc.
(Know that how to reset jio phone? if you have to reset password or want to reset it due to hang problem)
FAQ on MI Phone Safe Mode
How safe mode activated automatically on smartphone?
Safe mode does not enable automatically most of the time. When you switch on the smartphone then by mistake sometimes you long-press the volume down button or up. Then, Safe mode is turned on and starts appearing on the screen of mi phone.
Does safe mode delete anything on a smartphone?
No, the safe mode does not delete anything on the smartphone. It just disables the external application temporarily until you don`t turn off the safe mode. Your mobiles become as it becomes after factory reset. But there are many differences between doing the factory reset and enabling safe mode.
How can you use safe mode to troubleshoot a problem on android mobile?
Only some of the problems you can fix by enabling safe mode on phone Such as if the mobiles hang due to some virus or malware application or harmful app then you can delete those applications.
Do we need computer/ laptop to remove Safe mode from a smartphone?
No, you don`t require any computer or laptop system to disable it. The safe mode is enabled through the android mobile by the given features. So, that it is disabled through the android mobile-only by given the features of turning off it.
Should you use Safe mode on your android smartphone?
You should not enable safe mode always if you have to use an external application. You should use these features when you have viruses or uninstalling problems on your phones.
Conclusion
Finally, we hope that you would have got the solution for removing or exiting safe mode on your mi smartphone As well as this, you have got the solution of many queries which you were having on your mind when this function was turned on.
We have tried to make you understand and solve your problem with the step-by-step procedure, screenshot, and videos also.